Blythe, Kathryn (2005) The Limes, Blackburn Road, Ribchester, Lancashire. Archaeological Watching Brief. [Client Report] (Unpublished)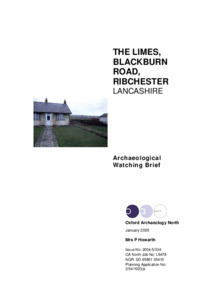 Preview
PDF




completereport.pdf


Download (1MB) | Preview
Abstract
Following a proposal by Mrs Pauline Howarth to build an extension and garage at the domestic dwelling of The Limes, Blackburn Road, Ribchester (SD 65861 35410), an archaeological watching brief of the groundworks was requested by the Lancashire County Archaeology Service (LCAS).
The town of Ribchester is an area of very high archaeological potential. It is the site of the Roman Fort of Bremetennacum and associated extra-mural settlement, dating from the first century AD. The fort lies on the south-west edge of town and is protected as a Scheduled Monument (SM 14255). The site is positioned to the north-east of the Roman bath house and may lie on the edge of the vicus or civilian settlement area.
Blackburn Road, on which The Limes is situated is thought to overlie a Roman road leading east from Ribchester Fort.
Oxford Archaeology North (OA North) undertook the watching brief in January 2005.
The foundation trenches were excavated to a maximum depth of 1.35m, revealing topsoil between 0.2-0.5m in depth overlying natural sandy subsoil. The watching brief did not reveal any finds or features of archaeological significance.
Actions (login required)