Moan, Louise and Lambert, Paddy (2019) Luton M1 to A6 Link Road, Bedfordshire. [Client Report] (Unpublished)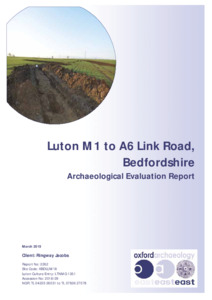 Preview
PDF




M1-A6 Link_archaeology report FINAL_LR.pdf


Available under License Creative Commons Attribution Share Alike.
Download (7MB) | Preview
Abstract
Between the 3rd and 19th December 2018, Oxford Archaeology East (OA East) undertook a 108 trench evaluation on land to the north of Luton, Bedfordshire ahead of the proposed construction of a link road between the M1 and A6 (TL 04225 26031 to TL 07836 27078).
Archaeological remains were identified across the length of the route in clear coherent clusters of activity, largely corresponding with the results of the geophysical survey. At the western end, Field 1 contained droveway ditches probably relating to a prehistoric hollow way or former field boundary. Field 2 contained a concentration of pits and ditches dating to the Late Iron Age and Early Roman periods. Pottery, kiln furniture, animal bone and hammerscale were recovered from the features, indicating industrial activity in this location. Field 4 contained a cobbled trackway and associated roadside ditch that produced a large amount of Middle Roman pottery. Field 6 contained the densest archaeological remains, all of which broadly corresponded with linear anomalies identified during the geophysical survey.
A large number of ditches were encountered across Field 6, with associated pottery dating from the Middle Iron Age through to the Late Roman period. Of particular note from this location is a large pit containing a number of high status cremation vessels and cremated human remains. Field 7 contained a single undated ditch which corresponded with a ditch identified during the geophysical survey and which is visible on satellite imagery. Field 9 towards the eastern end of the link route contained pits and ditches dating from the Middle Iron Age through to the Early Roman period. Two possible wells were uncovered in this location. Field 10 at the easternmost end of the route contained a series of parallel ditches, again identified by the geophysical survey. Little in the way of datable finds were recovered from these features, but what pottery was collected dates from the Roman period.
Overall the archaeological works have confirmed the presence of Iron Age and Roman remains across the length of the proposed link road, indicative of a widely exploited and managed landscape. The remains are likely to be related to agricultural settlements, with associated industrial and funerary activity, linked to known routeways and settlement areas recorded in the Central Bedfordshire and Luton Historic Environment Record.
Item Type:
Client Report
Uncontrolled Keywords:
Evaluation, evaluation, archaeological evaluation, Bedfordshire, bedfordshire, Luton, luton, A6, a6, M1, m1, Iron Age, Iron age, iron age, Roman, roman, droveway, drove way, ditch, ditches, boundary, boundaries, boundary, ditch, boundary ditches, trackway, track way, cobble, cobbles, cobbled, cobbled trackway, pottery, pot, ceramic, sherd, Iron Age pottery, Iron age pottery, iron age pottery, Roman pottery, roman pottery, geophysical survey, Geophysical survey, hammerscale, animal bone, animal bones, animal remains, bone, bones, vessel, cremation, cremations, cremation vessel, cremation vessels, HSR, hsr, human remains, kiln furniture, fired clay, well, wells, 2262, report 2262, Report 2262, OAE report 2262
Subjects:
Geographical Areas > English Counties > Bedfordshire
Period > UK Periods > Iron Age 800 BC - 43 AD
Period > UK Periods > Roman 43 - 410 AD
Divisions:
Oxford Archaeology East
Depositing User:

Hamilton

Date Deposited:
29 Apr 2019 10:13
Last Modified:
29 Apr 2019 10:15
URI:
http://eprints.oxfordarchaeology.com/id/eprint/4769
Actions (login required)