Simmonds, Andrew and Bashford, Robin and Grana, Lee and Sims, Mike and Thacker, Gerry and Benysek, Magda and Blinkhorn, Paul and Cook, Sharon and Cotter, John and Higgins, David and Nicholson, Rebecca and Scott, Ian and Shaffrey, Ruth and Strid, Lena and Dylewski, Markus and Kennedy, Hannah and Parsons, Conan and Rousseaux, Charles Perrodo Project, St Peter's College, Oxford Archaeological Investigation Report. [Client Report] (Unpublished)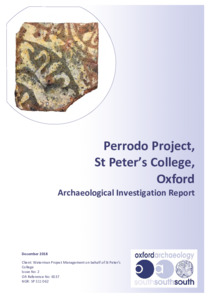 Preview
PDF




OXPETE14-16.pdf


Download (6MB) | Preview
Abstract
Oxford Archaeology undertook a programme of archaeological investigations
at St Peter's College, Oxford as a part of the Perrodo Project, a scheme to
improve the college's public spaces. The investigations were situated at two
locations, in Linton Quad and Chavasse Quad. The work in Linton Quad
comprised a test pit followed by a watching brief during excavation of a
soakaway and related service trenches and drainage works adjacent to the
New Inn Hall Street frontage, while in Chavasse Quad a test pit was dug and a
borehole survey carried out, after which a strip and record excavation was
undertaken on the footprint of a proposed attenuation tank and a watching
brief on the excavation of ground beams and services.
An augur hole and borehole recorded evidence for a large negative feature (or
features) that lie on the projected alignment of one possible projection of the
western defences of Oxford's original burh. Evidence was also found for
medieval tenements that occupied this part of New Inn Hall Street before the
eponymous academic hall was built, and the western range of the medieval
hall itself was exposed.
Actions (login required)