Tonks, David (2004) Beaumont Hall, Green Lane, Beaumont, Lancashire. Archaeological Watching Brief. [Client Report] (Unpublished)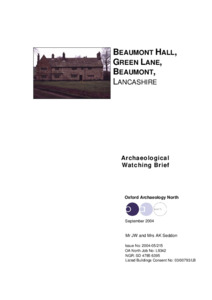 Preview
PDF




Complete Report.pdf


Download (1MB) | Preview
Abstract
A watching brief was undertaken by Oxford Archaeology North (OA North) in February 2004 at Beaumont Hall, Green Lane, Skerton, Lancaster (centred on SD 4785 6395). The work was commissioned by Mr JW and Mrs AK Seddon following the proposed construction of a new extension to the present building and was carried out during the groundworks associated with the excavation of foundations.
The proposed development area lay adjacent to the west wall of the present building, which was of early seventeenth century origin and listed status. It stood within an
area of archaeological sensitivity, occupying the possible site of a medieval monastic grange which dates back to the reign of King John in the early thirteenth century.
During the watching brief the groundworks involved reducing the surface of the development area to a general depth of 0.46m below the current floor level of the existing building, and the excavation of three foundation trenches to a depth of 0.75m below current floor level.
Actions (login required)