Town, Matthew (2005) Gardeners Tiles, 99-101 Penny Street, Lancaster, Lancashire. Archaeological Watching Brief Report. Project Report. Oxford Archaeology North. (Unpublished)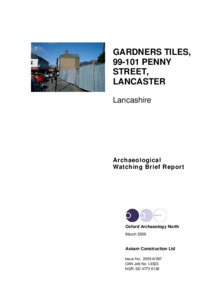 Preview
PDF




complete.pdf


Download (1MB) | Preview
Abstract
Oxford Archaeology North was commissioned by Askham Construction Ltd Ltd to undertake a watching brief on groundworks at Gardners Tiles, Penny Street, Lancaster
(SD 4773 6138), prior to the construction of a proposed residential development. Penny Street is on the line of a Roman road extending south from the Roman settlement
in Lancaster. Cemeteries were laid along this road during this period, and substantial cremation cemeteries and a mortuary enclosure have been identified at the nearby
former Streamline Garage. In addition cremations have been found along Penny Street, including the site of 77-79 Penny Street to the north of this development (OANorth
003a).
A programme of archaeological trial trenching was carried out in August 2003, which entailed the excavation of five trial trenches positioned across the site. A nineteenth
century cobbled surface, and a heavily truncated feature of undetermined date, were uncovered during the course of the evaluation, but otherwise no archaeological features
were identified. The majority of the site had either been leveled to natural soil, or had been disturbed by modern wall footings and drains (OANorth 003a).
Actions (login required)