Moan, Patrick (2018) Wintringham Park, Site 4i: Iron Age Settlement and Roman Fields. PXA and UPD. [Client Report] (Unpublished)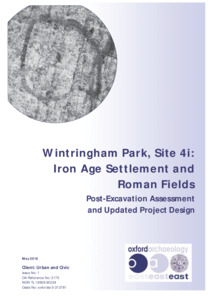 Preview
PDF




STRWIN17_Site4i_PXA_Report_2175_LR.pdf


Available under License Creative Commons Attribution Share Alike.
Download (4MB) | Preview
Abstract
Between 9th October and 28th November, Oxford Archaeology East (OAE) undertook an open area excavation on land south of Cambridge Road, St Neots (TL 19959 60224). This excavation was the first phase of required archaeological mitigation for the planned housing development at Wintringham Park, a parcel of land c. 162 hectares in size. This site forms one of six areas identified as requiring excavation and was one of the smallest measuring a total of 2.07ha.
A relatively low density of archaeological deposits and features were found within the area once stripped, with a continuation in the activity seen to the north during the Loves Farm excavation extending into the area. The earliest activity evident was part of a field system tentatively dated to the Middle Bronze Age. This was then followed by the main focus of activity, during the Middle Iron Age period, with a long running, sinuous, boundary being cut during the Middle Iron Age that was also observed running through the Loves Farm excavation to the north. Three ring-ditches, one of which was almost monumental in size, were also dug during the period, interpreted as roundhouse enclosures, along with a partially ditched sub-rectangular enclosure and other 'organically formed' boundary ditches.
The main, sinuous, boundary ditch was recut during the Late Iron Age at least once, although the roundhouses would appear to be out of use by this period.
Some Roman activity was revealed in the form of boundary ditches, presumably forming fields extending off the known Roman road to the north. An odd pair of parallel ditches were also recorded, forming part of this field system, although their form was quite odd and function unclear, possibly being as mundane as a boundary recut, but seemed too well aligned with each other for this to be the case.
The final phase of activity within the area was a shallow east to west boundary ditch phased to the medieval period which was thought to represent a trackway-side ditch for the medieval antecedent of Cambridge Road, along with a slightly later medieval hollow way with surviving metalling and truncated furrows of the same date.
Finds recovered include just over 9kg of pottery, the vast majority of which is of Middle Iron Age date, 1.3kg of fired clay, and 78g of slag. A total of 10.7kg of faunal remains was also retrieved, whilst the environmental results were very poor, with few charred plant remains being recovered, quite probably due to the poor soil conditions, although some preservation by waterlogging was observed in the deeper features.
Item Type:
Client Report
Uncontrolled Keywords:
Cambridgeshire, cambridgeshire, St Neots, st neots, Wintringham Park, wintringham park, Iron Age, iron age, Roman, roman, Middle Bronze Age, middle bronze age, Middle Bronze Age, middle iron age, pottery, Pottery, pot, ceramic, sherd, ditch, boundary ditch, settlement, field system, Medieval, medieval, hollow way, 2175, report 2175, Report 2175, OAE report 2175
Subjects:
Geographical Areas > English Counties > Cambridgeshire
Period > UK Periods > Bronze Age 2500 - 700 BC
Period > UK Periods > Iron Age 800 BC - 43 AD
Period > UK Periods > Medieval 1066 - 1540 AD
Period > UK Periods > Roman 43 - 410 AD
Divisions:
Oxford Archaeology East
Depositing User:

Hamilton

Date Deposited:
19 Jun 2019 09:16
Last Modified:
19 Jun 2019 09:16
URI:
http://eprints.oxfordarchaeology.com/id/eprint/4941
Actions (login required)