Vannan, Alastair (2010) Darlington Street Gas Works, Wigan. Archaeological Watching Brief. Project Report. Oxford Archaeology North. (Unpublished)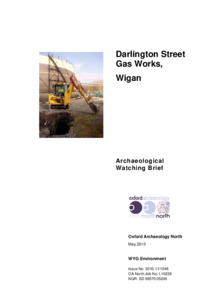 Preview
PDF




Darlington Street Archaeological Watching Brief Report.pdf


Download (3MB) | Preview
Abstract
In February 2010, Oxford Archaeology North (OA North) was commissioned by WYG Environment, acting on behalf of National Grid Property Holdings, to monitor a programme of geo-technical investigations on the site of a former gas works on Darlington Street, Wigan (centred on NGR SD 58570 05200). Wigan has long been associated with the Roman site of Coccium, which is recorded as lying 17 miles from Manchester in a listing of roads, which was probably compiled during the second century AD. Firm evidence for this association has, however, been lacking, although antiquarian observations and chance finds of Roman artefacts
indicated that occupation of some kind had occurred in Wigan during the Roman period. In particular, the remains of a probable Roman cemetery were discovered in the present study area during the construction of the gas works on the southern edge of the town between 1822 and 1830 (Watkin 1883, 20).
In order to investigate further the antiquarian observations of a cemetery, National Grid Property Holdings requested that the geo-technical investigations were monitored by an archaeological watching brief. This was intended as a preliminary assessment to establish the potential for archaeological remains to survive in-situ within the site. It was anticipated that the results obtained from the watching brief could be used to inform any requirement for any future archaeological assessment of the site.
Actions (login required)