Taylor, Karl (2009) Newland Furnace, Newland, Cumbria. Archaeological Watching Brief. Project Report. Oxford Archaeology North. (Unpublished)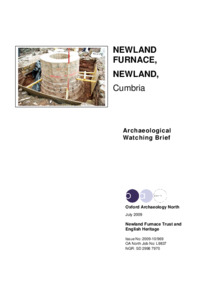 Preview
PDF




L9837_NewlandFurnace_WBrep_Jul09.pdf


Download (2MB) | Preview
Abstract
The iron-working complex at Newland, Cumbria (NGR SD 2998 7970), was one of eight blast furnaces that were built in the region during the first half of the eighteenth
century and, in many respects, is one of the most important. Established in 1747, the Newland Furnace remained in blast until 1891, and was the last but one charcoal-fired blast furnaces in Britain to close. The site has survived largely intact since its closure, and Newland today provides a rare example of a charcoal-based iron production centre and associated industrial hamlet, which includes charcoal barns and workers' housing. Its historical and archaeological significance is reflected in the recent designation of elements of the site as a Scheduled Monument (SM 34986).
The site is maintained by the Newland Furnace Trust, members of which have completed considerable repairs to the monument since 1989. Most recently, in 2006, the Newland Furnace Trust applied to English Heritage for funding to carry out some emergency repairs to the furnace stack. This work was necessary to prevent the further ingress of rainwater into the stack, which was having a negative impact on the
surviving fabric of the monument. Initial clearance work at the upper level of the stack, carried out by members of the Newland Furnace Trust, revealed a section of a single-skin wall abutting the south wall of the furnace stack. As this wall was to be concealed by the repair works, English Heritage requested that an archaeological survey was carried out as part of the repair work. In addition, whilst clearing
overburden from the upper level of the furnace stack in preparation for the emergency repair work, members of the Trust exposed other elements of historic fabric, notably a
walkway around the outside of the stack, which similarly merited an archaeological survey; this was carried out by Oxford Archaeology North (OA North) between April
and September 2007.
Actions (login required)