Underdown, Simon (2006) St Martin's Hospital, (Former Union Workhouse), Bath, Somerset. [Client Report] (Unpublished)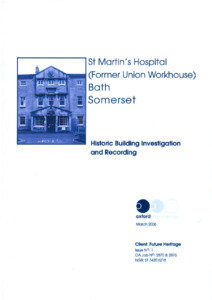 Preview
PDF




BASMH05.pdfA.pdf


Download (17MB) | Preview
Abstract
Oxford archaeology (OA) has carried out a programme of building recording and investigation at St Martin's Hospital, Bath. The main survey was in advance of conversion of some of the buildings to residential use but the work also included a watching brief element to record previously obscured features after the start of building works. The importance of the site is that the buildings were formerly part of the Bath Union Workhouse built in 1837-8 and are Grade II listed.
The workhouse was designed by Sampson Kempthorne and had a hexagonal outer range and a y shaped inner block of radial wings with a central supervisory hub. Much of the hexagon survives too including the main front block to the north and north west and north east wings and also the former imbecile and invalid block to the south which is still part of the hospital and not surveyed.
The buildings are all constructed of Bath stone and consist of ashlar facing over snecked rubble backing. Many old sash windows remain in original splayed openings but some openings have been straightened and some wings have had modern crittal windows fitted in the old openings and some new openings inserted.
The workhouse had become a hospital with the formation of the NHS in 1948 and most of the interior partition and division of the floors into individual rooms dates from after that date. In some areas primary or quite early decorative schemes and features survived, notably in parts of the north and north west wings of the hexagon and the west radial wing of the central Y.
The watching brief revealed some hitherto unexpected features. A triple stone barrel vault was exposed beneath the central hub and an external opening to the vault was seen in a trench against the north west wall of the hub. The ground floor of the hub was the e workhouse kitchen and the vault may have served as a larder and / or coal cellar. Roof beams in the hub were stamped KYANS PATENT which referred to recently patented (1832) method of timber preservation treatment.
Test trenches in the extension to the west radial wing revealed a filled in basement with windows in the north wall and the blocked arched door to this was seen in the end wall after vegetation was cleared. Another test trench south of that wing exposed an underground stone vault containing water, which corresponds to the workhouse reservoirs marked on a plan of 1838.
Actions (login required)