Bates, Andy (2008) Land to the rear of the Salutation, Southend Road, Penrith, Cumbria. Archaeological Desk-Based Assessment, Watching Brief and Evaluation Report. Project Report. Oxford Archaeology North. (Unpublished)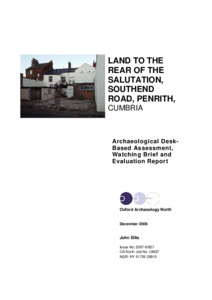 Preview
PDF




The Salutation Full Report 091208.pdf


Download (49MB) | Preview
Abstract
Following a planning application by John Ellis for the erection of six flats on a c 250m2 plot of vacant land to the rear of The Salutation, Southend Road, Penrith,
Cumbria (NY 51705 29915; Planning Reference 3/02/0590), Cumbria County Council Historic Environment Service (CCCHES) was consulted by Eden District Council. The proposed development site lies in an area of recognised archaeological potential and, accordingly, CCCHES issued a brief for a programme of archaeological investigation to be undertaken in association with the development. Following
submission of a project design for a desk-based assessment and evaluation to meet the requirements of the CCCHES brief, Oxford Archaeology North (OA North) was commissioned by John Ellis to undertake the archaeological investigation. In addition, prior to the trial trench evaluation taking place and, at the request of CCCHES, a watching brief was undertaken during the excavation of two geotechnical pits within the development area. All three phases of work were completed in March 2007. This report details the results of each phase of archaeological work completed by OA
North, with a concluding chapter on the impact of the development on the identified heritage resource.
In total, the desk-based assessment identified 32 cultural heritage sites within a 300m radius of the proposed development site. These sites ranged in date from the early
medieval to industrial periods and included nine listed buildings (within 50m of the site), eight sites listed on the Historic Environment Record (HER) and a further 13
sites identified from cartographic sources. The remaining two comprised the Penrith urban archaeological hazard area (Site 29), and the Penrith urban conservation area.
Three sites of particular relevance to the proposed development comprise Southend Road itself (Site 18), formerly Bridge Lane and part of Penrith's medieval street
network; The Salutation (Site 1), a Grade II-listed early nineteenth-century building which adjoins the development site, upon which the inn's former outbuildings may
have extended; and Numbers 4 and 5 Southend Road (Site 32), which formerly occupied the development site. Map regression would suggest these buildings were present by 1787, subject to some modification between 1820 and 1849, and possibly
entirely rebuilt between 1868 and 1900, before final demolition in the later twentieth century.
Actions (login required)