Cooper, Spencer (2003) Roman Farmstead at 23-33 Wimbledon Road, March, Cambridgeshire. [Client Report] (Unpublished)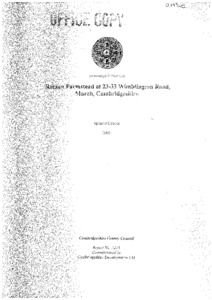 Preview
PDF




CCCAFU_reportA218.pdf


Available under License Creative Commons Attribution Share Alike.
Download (6MB) | Preview
Abstract
Between January 20th-24th 2003, an archaeological evaluation was undertaken by staff of the Archaeological Field Unit of Cambridgeshire County Council at land to the west of 23-33 Wimblington Road, March, Cambridgeshire (TL4152 9494). The proposed site includes a residential development within an area of approximately 5250 square metres. The project was commissioned by Peter Humphrey Associated on behalf of Cambridgeshire Developments (G. Blore). The work was carried out in accordance with a Brief for an archaeological evaluation issued by Andy Thomas of the Cambridgeshire County Council Archaeological Service (Planning Application No H/0201462FUL).
Aerial photography has revealed possible remains of Roman settlement (villa?) immediately to the west of the development area.
Features uncovered within the development area include a large number of enclosure ditches and gullies, rubbish pits and post-holes which may be linked to a Roman farmstead or possible nearby villa. The ceramic evidence suggests occupation spanned from the Pre Roman Iron Age to early Roman period (c. 2nd Century AD). It is interesting to note that there was no pottery from the later Roman period in particular there is an absence of Nene Valley Ware common from the 2nd Century AD onwards. A number of undated structural features were revealed in Trench 4 that may be late Iron Age. Human remains were recovered from Trench 1 although these were not from a grave.
Finds recovered from the evaluation included Roman pottery, animal bone and daub.
Item Type:
Client Report
Uncontrolled Keywords:
March, march, Cambridgeshire, cambridgeshire, A218, Iron Age, iron age, Late Iron Age, late iron age, Roman, roman, villa, farmstead, settlement, enclosure ditch, ditch, gully, rubbish pit, pit, post-hole, post hole, pottery, sherd, ceramic, pot, skeleton, body, HSR, hsr, Human Remains, human remains, animal remains, bone, bones, animal bones, animal bone, daub, Roman pottery, roman pottery, aerial photography, a218, report a218, report A218, Report a218, Report A218, CCCAFU report A218
Subjects:
Geographical Areas > English Counties > Cambridgeshire
Period > UK Periods > Iron Age 800 BC - 43 AD
Period > UK Periods > Iron Age 800 BC - 43 AD > Late Iron Age 100 BC - 43 AD
Period > UK Periods > Roman 43 - 410 AD
Depositing User:

Archives

Date Deposited:
25 Sep 2019 08:43
Last Modified:
25 Sep 2019 08:43
URI:
http://eprints.oxfordarchaeology.com/id/eprint/5071
Actions (login required)