Tsybaeva, Daria (2017) Archaeological Evaluation at Fairfield Road, Framlingham. [Client Report] (Unpublished)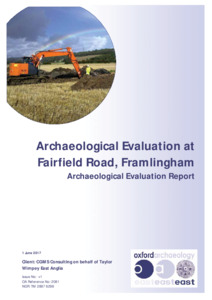 Preview
PDF




OAE_Report2081_XSFFRA17_LR.pdf


Available under License Creative Commons Attribution Share Alike.
Download (2MB) | Preview
Abstract
Between 24 April and 9 May 2017 Oxford Archaeology East conducted an archaeological evaluation consisting of thirty trenches on two fields east of Fairfield Road, Framlingham, Suffolk (centred on TM 2887 6298).
The evaluation has found archaeological activity in proximity to the medieval centre of Framlingham. The southern field had a few medieval and post medieval drainage ditches and a watering hole. Several drainage gullies were also observed in the northern field. The main centre of activity, dating to high to late medieval periods, included two stone surfaces, several parallel ditches and three possible watering holes/ponds and concentrated along Fairfield Road on the western edge of the northern field. The presence of water features, surfaces and a lack of standing structures implies animal husbandry activity. The site may be the location of medieval cattle market or a fair in Framlingham.
The site also found two features of probable Saxon date.
Item Type:
Client Report
Uncontrolled Keywords:
Evaluation, evaluation, archaeological evaluation, Suffolk, suffolk, Framlingham, framlingham, Medieval, medieval, post-medieval, post medieval, Post-Medieval, post medieval, ditch, ditches, drainage, drainage ditch, gully, gullies, animal husbandry, watering hole, farming, agriculture, pit, pottery, Pottery, pot, sherd, ceramic, Medieval pottery, medieval pottery, post-medieval pottery, post medieval pottery, Post-Medieval pottery, post medieval pottery, Early medieval pottery, Early Medieval pottery, early medieval pottery, Anglo-Saxon pottery, Anglo-saxon pottery, anglo-saxon pottery, Saxon pottery, saxon pottery, Early medieval, Early Medieval, early medieval, Anglo-Saxon, Anglo-saxon, anglo-saxon, Saxon, saxon, surface, layer, stone surface, 2081, report 2081, Report 2018, OAE report 2081
Subjects:
Geographical Areas > English Counties > Suffolk
Period > UK Periods > Early Medieval 410 - 1066 AD
Period > UK Periods > Medieval 1066 - 1540 AD
Period > UK Periods > Post Medieval 1540 - 1901 AD
Divisions:
Oxford Archaeology East
Depositing User:

Hamilton

Date Deposited:
29 Jul 2019 08:33
Last Modified:
29 Jul 2019 08:33
URI:
http://eprints.oxfordarchaeology.com/id/eprint/5096
Actions (login required)