Clarke, Steve (2005) 33-35 Penny Street, Lancaster, Lancashire. Archaeological Watching Brief. December 2005. [Client Report] (Unpublished)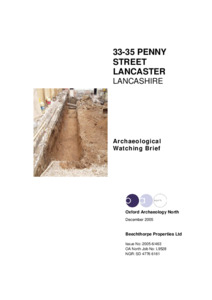 Preview
PDF




L9528_completereport.pdf


Download (3MB) | Preview
Abstract
A watching brief was undertaken by Oxford Archaeology North in April 2005 at 33-35 Penny Street, Lancaster (centred on SD 4776 6161). The work was commissioned
by Beechthorpe Properties Ltd, who propose to redevelop and extend the present building, which lies within an area of recognised archaeological potential. The watching brief was undertaken on an intermittent basis within the yard to the rear of the property and monitored the removal of overburden from across the site and the excavation of two foundation trenches along the north and south edges of the yard, as
well as the excavation of a lift shaft pit towards the centre of the site.
During the course of the watching brief a number of archaeological features were observed. These included the external cellar wall of the main building and a stonelined
pit-like feature tentatively identified as a cesspit. The limited, unstratified, finds assemblage comprised a clay pipe and several sherds of pottery, including a rim sherd
of a second to third century AD Severn Valley ware wide-necked jar redeposited amid the backfill of the cellar wall and single sherds of Samian and Black Burnished
ware. It is possible that these vessels are indicative of the presence of Roman cremations on the site which had been disturbed by the later habitation and development of the area.
Actions (login required)