Hiller, Jon and Wenban-Smith, Frances and Champness, Carl and Allen, Peter (2006) Dartford Fastrack Scheme Sections A, B & D; Dartford Fastrack Scheme section C; Dartfrod Fastrack Scheme section E & F. Project Report. Oxford Archaeological Unit Ltd. (Unpublished)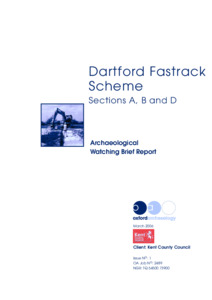 Preview
PDF




DAFT04_whole_ABD.pdfA.pdf


Download (1MB) | Preview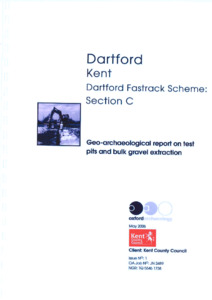 Preview
PDF




DAFT04_C.pdfA.pdf


Download (9MB) | Preview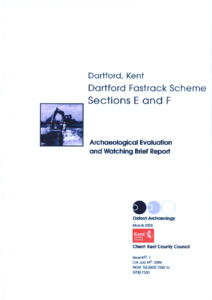 Preview
PDF




DAFT04_E_&_F.pdfA.pdf


Download (6MB) | Preview
Abstract
AB & D : In October 2004, Oxford Archaeology (OA) carried out an archaeological watching brief during groundworks associated with new sections of the Dartford Fastrack Scheme in Dartford, Kent. The work was undertaken by
OA on behalf of Kent County Council (KCC). This report covers Sections A, B and D of the Scheme. Separate reports have been prepared by OA for Sections C, E and F of the Scheme. In the event no archaeological monitoring was required for Sections A and D, as these parts of the new
transport route lie wholly within built up areas and roadways. The Section B results are from the RAFA Memorial Hall/`Glaxo Field' at the junction of the A226 and the Darenth Road (NGR TQ 54500 73900. The watching brief revealed natural chalk sealed beneath alluvial deposits associated with the line of the River Darenth. A well and brick wall with associated brick floor were located and are probably part of the 19th century mill complex that stood on the site. A drainage ditch to the south of these was
also of 19th or 20th century date. No earlier archaeological remains were encountered
C : Archaeological & geological field investigations of Section C of the Dartford Fastrack Scheme have confirmed certain aspects of the local geology and have brought to light periglacial structures not previously recorded. The investigation confirmed the local occurance of the Dartford Heath Gravel (= Orsett Heath Gravel, =Boyn Hill Gravel) and enabled its relationship to the gravels on Dartford Heath and at Swanscombe to be examined. Periglacial load structures of more complexity than the local involutions have been described and valley bulging is reported for the first time.
No equivocal Palaeolithic artefacts were found despite the sieving of very large quantities of gravel. This suggests that there was no human presence in the area at the time of the deposit's formation, which perhaps implies it was not laid down at the same time as any part of the Boyn Hill Gravel sequence at Swanscombe, which is rich throughout in Palaeolithic remains.
E & F : Oxford archaeology (OA) carried out an archaeological evaluation from the 6th to the 10th September 2004 at 'Section E' of the proposed Fastrack route in Dartford Kent (NGR TQ 55007330). This work was undertaken at the ground of Darenth Valley Hospital, on behalf of Kent County Council (KCC). The evaluation comprised the excavation of four trenches located along this stretch of the Fastrack kand intake. No archaeological remains were revealed other than several struck flint flakes and a possible flint scraper retieved from the subsoil.
Further work was undertaken in 'Section F', the stretch of the route that runs from Darenth Valley Hospital to Bluewater (NGR 57007330). This comprised a watching brief on a 'de-stumping exercise' carried out by a team of ecologists from BABTIE and a walkover survey carried out in order to determine the presence and nature of a reported hollow-way to the north of Roman Watling street. The watching brief results have confirmed that there was no archaeological potential in the area of 'de-stumping'. The walkover survey has revealed the existence of linear earthworks extending parallel to Watling Street, but their date could not be determined.
Actions (login required)