McIntosh, Robert Land to rear of Cleeve Cottages, Icknield Road, Goring. [Client Report] (Unpublished)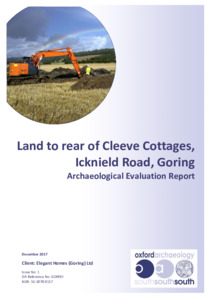 Preview
PDF




GOIR17.pdf


Download (5MB) | Preview
Abstract
Oxford Archaeology (OA) was commissioned by Elegant Homes (Goring)
Limited to undertake an archaeological evaluation at the site of a proposed
housing development at land to the rear of Cleeve Cottages, Icknield Road,
Goring, Oxfordshire (SU 6078 8157). The site sits towards the base of slope
with hills rising to the west and north. The route of the Icknield Way, a Roman
routeway with possible prehistoric origins, is thought to pass nearby to the
Site.
Six trenches, positioned to cover the area of impact were excavated across the
Site. A small number of possible archaeological features were observed and
all were sample excavated, but did not yield any material culture, and it is
entirely possible these had resulted from relatively recent bioturbation.
A SW-NE orientated 15m wide flinty loam-rich deposit was recorded overlying
chalk-rich colluvium. This was investigated in a number of sondages, where it
was consistently composed of a high density of flint nodules and gravel loosely
packed within a reddish-brown silty matrix measuring between 0.2 – 0.4m
thick, but with no evidence for any metaling, compaction, or wheel ruts on its'
surface. Although this deposit is orientated parallel to the contours of the hillslope
to west and north (as would be expected of a routeway) it is probable
that it was a result of a significant but localised colluvial event rather than
representing a man-made surface.
Deposits of chalk-rich colluvium containing flint nodules extended below the
flinty-gravel spread to a depth of c. 3m below ground level where chalk
bedrock was encountered.
Actions (login required)