Webb, Helen St Thomas of Canterbury Church Goring on Thames Oxfordshire. [Client Report] (Unpublished)

Preview
PDF




GOTOM08_Report.pdf


Download (3MB) | Preview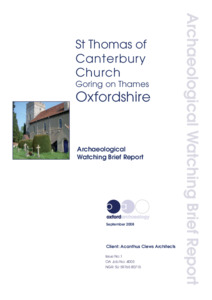 Preview
PDF




GOTOM08_WB.pdf


Download (1MB) | Preview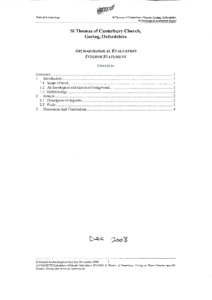 Preview
PDF




GOTOM08_Interim_Statement.pdf


Download (342kB) | Preview
Abstract
Evaluation
Between December 2008 and April 2009 Oxford Archaeology (OA)
carried out a number of archaeological recording and investigation
exercises at St Thomas of Canterbury Church, Goring, Oxfordshire. The
work was commissioned by the Parochial Church Council
(PCC)/Acanthus Clews Architects in advance of the demolition of the
existing boiler room and WC/ kitchen building, and erection of a single
storey extension on the south elevation of the church. In addition to this,
new flooring and under-floor heating is to be installed within the church.
The extramural evaluation revealed a number of structural features
relating to an earlier priory complex, including robbed out walls and a
column base that possibly made up part of a four-sided cloister. Thirtyfive
grave cuts were revealed in the excavation area, mostly 19th and 20th
centuries in date and orientated in N-S rows. Five were thought to be
earlier in date, possibly medieval. Skeletons were revealed in just two of
the graves, a neonate and an adult found at the deepest part of the
excavation area. Two brick burial structures with vaulted roofs, probably
late 18th century in date, were also revealed.
Remains of the north wall of the church and parts of its western extent
were uncovered during the intramural evaluation. The foundations of a
later arcade column, built after the demolition of the north wall was also
revealed. The archaeologists had the opportunity to record two well
preserved coffins, one from the 18th century and the other likely to date to
the 17th century, within intramural brick vaults. Five more grave cuts in
the eastern end of the north aisle and a single grave cut in the nave,
which are likely to also contain brick vaults, were investigated. 19th
century features such as brick heating ducts and the remains of a stone
slab and brick floor layer under the eastern and the central aisles were
also uncovered and recorded.
The project also included photographic recording of the boiler house and
kitchen, prior to their demolition, and of the nuns doorway prior to its alteration.
Watching brief
In May 2008, Oxford Archaeology (OA) was commissioned by Acanthus
Clews Architects to undertake an archaeological watching brief during
ground works in the churchyard of St Thomas of Canterbury, Goring,
Oxfordshire (NGR: SU 59765 80715). The works comprised the digging
of one geotechnical test pit to assess soil quality. The watching brief
revealed deposits relating to churchyard management and burial activity,
but no other significant archaeology was observed.
Actions (login required)