Clarke, Rachel (2006) Medieval Quarry Pits and Post-Medieval Layers at The Granary, Nos 30-32 West Street, St Ives, Cambridgeshire: An Archaeological Evaluation. [Client Report] (Unpublished)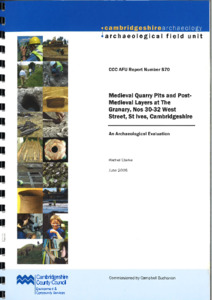 Preview
PDF




CCCAFU_report870.pdf


Available under License Creative Commons Attribution Share Alike.
Download (3MB) | Preview
Abstract
An archaeological evaluation, comprising three trenches, was undertaken by Cambridgeshire County Council Archaeological Field unit on the site of a former warehouse at Nos 30-32 West Street, St Ives. The proposed development comprises the construction of six new dwellings and covers an area of c.0.14ha.
The site is thought to lie within the northern fringes of the historic core of the town and is located close to an excavation at the former Permanex site, where 13th-14th century plot boundaries, rubbish pits and a 17th century cock fighting pit were uncovered.
The earliest evidence of activity was in the form of four flints, two of which are characteristic of Neolithic technology. Although residual these will add to the growing data for prehistoric exploitation and activity in St Ives and along the gravel terraces of the Ouse valley.
The main result of the evaluation was the identification of a mass of quarry pits that were encountered in all three trenches at a depth of c.0.7m below ground level. This evidence indicates fairly intensive and extensive gravel extraction on this plot of land over a seemingly defined time span during the medieval period (12th-14th century). No remains of frontage buildings or boundary plots were found. These may have been removed by quarrying, or it is possible that the site may have been located on the immediate fringes of the planned town. The presence of relatively small quantities of pottery, butchered animal bone and other finds indicates some disposal of domestic and possibly industrial waste from nearby settlement. Environmental samples, taken from two medieval pits and one post-medieval layer, were devoid of plant remains.
The pits were sealed beneath several post-medieval cultivation layers and modern rubble/construction deposits. Cartographic evidence indicates that the development area was located within a large parcel of land stretching back to North Road, which seems to have remained largely clear of buildings. The plot of land may have been an orchard in the latter part of the 19th century; no buildings are shown on the West Street frontage until the construction of the factory/warehouse in the 20th century.
Item Type:
Client Report
Uncontrolled Keywords:
St ives, st ives, St Ives, neolithic, Neolithic, Cambridgeshire, cambridgeshire, report 870, 870, Report 870, CCCAFU report 870, medieval, Medieval, pottery, Pottery, butchered animal bone, Butchered Animal Bone, Butchered animal bone, animal bone, Animal Bone, Animal bone, animal remains, bone, bones, domestic, Domestic, post-medieval, Post-medieval, Post-Medieval, Post Medieval, post medieval, pit, pits, quarry, quarry pit, quarry pits, medieval pottery, Medieval pottery, Post-Medieval pottery, post-medieval pottery, Post Medieval pottery, post medieval pottery, gravel extraction
Subjects:
Geographical Areas > English Counties > Cambridgeshire
Period > UK Periods > Medieval 1066 - 1540 AD
Period > UK Periods > Neolithic 4000 - 2200 BC
Period > UK Periods > Post Medieval 1540 - 1901 AD
Depositing User:

Archives

Date Deposited:
30 Oct 2019 07:19
Last Modified:
30 Oct 2019 07:19
URI:
http://eprints.oxfordarchaeology.com/id/eprint/5438
Actions (login required)