Clarke, Rachel (2006) Medieval and Post-Medieval Occupation at Nos 21-23 Benedict's Street, Norwich, Norfolk: An Archaeological Evaluation. [Client Report] (Unpublished)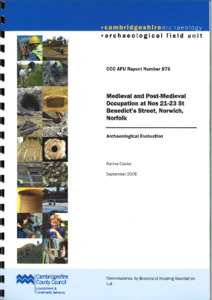 Preview
PDF




CCCAFU_report876.pdf


Available under License Creative Commons Attribution Share Alike.
Download (7MB) | Preview
Abstract
An archaeological evaluation comprising four trenches was undertaken between 15th and 23rd May 2006 at Nos 21-23 St Benedict's Street, Norwich by the Cambridgeshire County Council Archaeological Field Unit. The site, which is located on a natural escarpment within the historic core of the city, was evaluated in advance of a proposed mixed residential and retail development. Three trenches were excavated along the St Benedict's Street frontage to establish the extent of modern cellarage; one of these, and a fourth trench located to the fear, were selected for full investigation.
A sequence of archaeological deposits up to 2m thick was recorded. The earliest find from the site is a small, unstratified Neolithic flint that has sustained modern damage. Although no in situ evidence of Late Saxon occupation was found, several sherds of Thetford and St Neots pottery were recovered as residual finds in medieval and later contexts.
Medieval activity dates predominantly to the 13th to 14th centuries; no clear structural remains were identified although a number of pits cutting the natural chalk were recorded, the largest of which might be a cellar. Initial levelling of the site probably occurred towards the end of this period when the pits were infilled and thick layers containing domestic rubbish were dumped, most notably adjacent to the frontage.
Fairly level ground appears to have been achieved by the 15th century, probably in preparation for the construction of several frontage buildings, represented by chalk and/or flint rubble foundations, some with associated floors and surfaces. Dating of the walls is not clear, although they are likely to be 15th or 16th century, and are reminiscent of similar structures excavated nearby at Pottergate. A number of probably contemporary pits and garden soils were identified to the rear, sealed beneath a c.1.5m-deep sequence of post-medieval yard surfaces, pits and garden soils. A notable discovery is a possible 15th or 16th century undercroft identified in the south-east corner of the site.
The finds assemblage is of moderate size and includes pottery, brick and tile, shell, slag, animal bone and fish bone. The small metalwork assemblage includes six 16th-17th century cloth seals, providing additional data for this important aspect of the city's association with the cloth trade. Environmental samples produced evidence of low-level disposal of domestic waste, including the remains of charred cereal grains, weed seeds, molluscs, fishbone and eggshell.
Despite the presence of cellars, a strip c.3-4m wide of archaeological deposits has survived along the frontage; earlier (medieval) deposits have also been preserved beneath thick levelling layers with relatively little impact. Stratified remains close to the frontage, including flint wall foundations and a probable undercroft, were revealed at a fairly shallow depth (c.0.25m) below current ground level, and are particularly vulnerable to future groundworks.
Item Type:
Client Report
Uncontrolled Keywords:
norwich, Norwich, norfolk, Norfolk, cccafu, CCC AFU, ccc afu, CCCAFU, report 876, 876, Report 876, CCCAFU report 876, neolithic, Neolithic, Flint, flint, worked flint, lithic, lithics, lithic implement, Norwich, norwich, medieval, Medieval, post-medieval, Post-medieval, Post-Medieval, Post Medieval, post medieval, pit, Pit, cellar, Cellar, floor, Floor, pottery, Pottery, shell, Shell, Brick, brick, tile, Tile, animal bone, Animal bone, Animal Bone, bone, animal remains, fish bone, Fish bone, Fish Bone, undercroft, Undercroft, egg shell, shell, mollusc, molluscs, charred plant remains, Charred Plant Remains, CPR, cpr
Subjects:
Geographical Areas > English Counties > Norfolk
Period > UK Periods > Medieval 1066 - 1540 AD
Period > UK Periods > Neolithic 4000 - 2200 BC
Period > UK Periods > Post Medieval 1540 - 1901 AD
Depositing User:

Archives

Date Deposited:
22 Oct 2019 16:25
Last Modified:
22 Oct 2019 16:25
URI:
http://eprints.oxfordarchaeology.com/id/eprint/5443
Actions (login required)