Mortimer, Richard (2006) Multi-period remains at Sawston Hall, Sawston, Cambridgeshire: An Archaeological Evaluation. [Client Report] (Unpublished)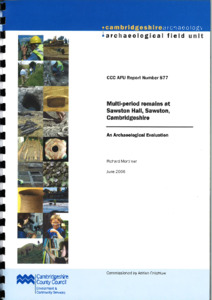 Preview
PDF




CCCAFU_report877.pdf


Available under License Creative Commons Attribution Share Alike.
Download (3MB) | Preview
Abstract
This archaeological evaluation took place on land to be affected by development to refurbish Sawston Hall as a hotel, an alteration also requiring development within the hall grounds. Four trenches were excavated in the area to the west and south of the Hall. The archaeological remains found within the trenches represent four main periods: Neolithic/Bronze Age, Late Iron Age/Early Roman, earlier medieval and late medieval/post-medieval. Upstanding remains from the 1940s wartime occupation of the Hall were also recorded.
The prehistoric archaeology is finds-related, comprising a relatively large worked and burnt flint assemblage recovered residually within later features, mostly in Trench 4. The very Late Iron Age and Early Roman material, also found in Trench 4, dates that occupation to a very limited period in the middle of the 1st century AD, perhaps no more than a generation after the conquest.
In this area the principal prehistoric and Early Roman feature recorded was a wide channel, possibly draining from a well or spring. There was a cut at the base of the channel, presumably 'canalising' a natural feature. The channel would appear to have been open throughout the Neolithic and Bronze Age, perhaps being re-cut in the Early Roman period. In the area of this channel were two contemporary wells or shafts, a ditch and a posthole.
The earlier medieval archaeology consists of ditches recorded in all four trenches. These could represent field ditches, although this close to the known location of a medieval manor house, they are more likely to be part of the manor grounds. Their alignments are of interest, suggesting a different alignment for the earlier Hall building and its attendant moats and grounds. The principal medieval feature recorded was a large moat ditch aligned north-northwest to south-southeast within the walled garden immediately behind the Hall. This may be part of the original 12th/13th century manor, backfilled in the late medieval period.
Little later or post-medieval archaeology was recorded, other than the upper infilling of the moat and of a ditch in Trench 3.
Item Type:
Client Report
Uncontrolled Keywords:
report 877, 877, Report 877, CCCAFU report 877, sawston, Sawston, Cambridgeshire, cambridgeshire, Neolithic, neolithic, bronze age, Bronze age, Bronze Age, Bronze, bronze, Late Iron Age, late iron age, Late iron age, Roman, roman, Iron age, Iron Age, iron age, Early Roman, early roman, early medieval, Early Medieval, Early medieval, medieval, Medieval, Post-medieval, Post-Medieval, post-medieval, Post Medieval, post medieval, channel, Channel, well, Well, shaft, Shaft, ditch, Ditch, ditches, Ditches, posthole, Posthole, post hole, Post Hole, Manor, manor, manor house, moat, Moat, moat ditch, Moat ditch, Moat Ditch, flint, flints, lithic, lithics, lithic implement, lithic implements, burnt flint, pottery, Pottery, pot, ceramic, sherd, Late Iron Age pottery, late iron age pottery, Late iron age pottery, Roman pottery, roman pottery, Iron age pottery, Iron Age pottery, iron age pottery, Early Roman pottery, early roman pottery, early medieval pottery, Early Medieval pottery, Early medieval pottery, medieval pottery, Medieval pottery, field ditch, field boundary, field boundaries, agriculture, boundary ditch
Subjects:
Geographical Areas > English Counties > Cambridgeshire
Period > UK Periods > Bronze Age 2500 - 700 BC
Period > UK Periods > Early Medieval 410 - 1066 AD
Period > UK Periods > Iron Age 800 BC - 43 AD > Late Iron Age 100 BC - 43 AD
Period > UK Periods > Medieval 1066 - 1540 AD
Period > UK Periods > Neolithic 4000 - 2200 BC
Period > UK Periods > Post Medieval 1540 - 1901 AD
Period > UK Periods > Roman 43 - 410 AD
Depositing User:

Archives

Date Deposited:
16 Oct 2019 08:03
Last Modified:
16 Oct 2019 08:03
URI:
http://eprints.oxfordarchaeology.com/id/eprint/5444
Actions (login required)