Evans, Gary and Davies, Alex Land at Boulton Moor, east of Chellaston Lane (Phases 3 & 4), Derby. [Client Report] (Unpublished)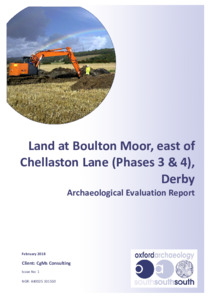 Preview
PDF




CHE17_Evaluation_report.pdf


Download (6MB) | Preview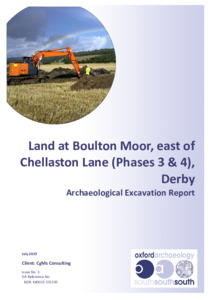 Preview
PDF




CHE18_Excavation_report.pdf


Download (11MB) | Preview
Abstract
An evaluation was commissioned by CgMs Consulting for an area of land of c 14.5 hectares between Chellaston Road and the A6, Derby. Eighty-one trenches were opened in November and December 2017, representing a 3.6%
sample of the two fields. Pottery dating to both the earlier and later Iron Age was discovered, primarily
from ditches concentrated in the central southern part of the site. Roman pottery, principally of later 2nd or 3rd century date, and worked stone were recovered from ditches and pits over a more extensive area, although
concentrated in the south-eastern part of the site. A large feature of uncertain date and function containing a waterlogged deposit was found to the north.
The nature of the Iron Age and Roman activity remains uncertain, although it appears that a system of land divisions and/or enclosures were present on the
site. Settlement activity is also suggested for the Roman period by the variety of finds.
A large number of north-south aligned ditches and furrows were also discovered. These followed the prevailing orientation of the modern fields,
and post-medieval finds were recovered in a number of these features. They appear to have been post-medieval sub-divisions of the field and related to agricultural activity.
A programme of open area excavations in advance of the development of an
area of land between Chellaston Road and the A6, at Boulton Moor, Derby. The Strip, Map and Sample excavations took place from March-May 2018 in two areas (Areas A and B).
A system of ditches was uncovered in the western half of Area A, surrounding a penannular ditched enclosure with an entrance on its eastern side. There was no sign of an internal structure within the enclosure. The ditch system
was of two phases, the main boundary in the first phase running on a NNW alignment, and in the later phase on a NNE alignment. Pottery dating to the
middle and later Iron Age was recovered from the fills of the penannular ditched enclosure and the surrounding ditches, together with a small assemblage of animal bones, principally cattle. Charred plant remains and
charcoal, were sparse. The Iron Age activity may well represent a small pastoral settlement managed by a single family or individual, though the limits
of the Iron Age activity were not definitely established either to the north or south.
In Area B, Roman pottery principally of later 2nd-3rd century date, were found within the fills of an enclosure ditch that enclosed an area measuring 62m by
at least 50m. Within the enclosure a scatter of shallow pits, a hearth and short lengths of ditch or gully were found. The finds from the internal pits suggest
domestic occupation. No animal bones were found, but several of the pits and other internal features contained assemblages of charred plant remains, some
indicating crop processing. A number of ditches which lay outside the enclosure suggest that a further system of fields or paddocks was laid out to the east of the main enclosure in the later Roman period.
The Roman enclosure in Area B cut smaller ditches running east-west, and other ditches further east on a similar alignment produced sherds of Iron Age
pottery, perhaps indicating a further area of Iron Age activity beyond the limits of the site. A radiocarbon date of 175-40 cal BC was obtained on charred residue adhering to a vessel from one of these ditches.
Only part of the Roman enclosure lay within the site, so it is difficult to establish its overall character with confidence. The pottery suggests
settlement, although no structures were found. The other finds consisted predominantly of fragments of quernstones. In contrast to the Iron Age features, the Roman features produced no animal bones, while charred plant
remains were much more abundant. This may indicate a change from pastoral to arable farming, despite the relatively low-lying location of the site.
A number of north-south aligned plough furrows containing pottery dating to the 18th and 19th centuries followed the prevailing orientation of the modern fields. They appear to have been post-medieval sub-divisions of the field
related to agricultural activity
Actions (login required)