Hughes, Vix (2002) Mill Street, Maryport, Cumbria. Archaeological Watching Brief. [Client Report] (Unpublished)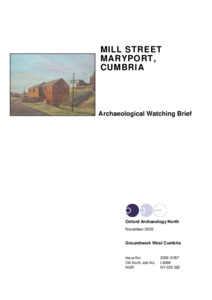 Preview
PDF




L9098_Maryport WB_fullrep.pdf


Download (921kB) | Preview
Abstract
An archaeological watching brief was carried out by Oxford Archaeology North (OAN),on behalf of Groundwork, West Cumbria, in August 2002 on land adjacent to Mill Street, in Maryport, Cumbria (NY 035 362). The area was being landscaped by Groundwork for an ongoing programme of beautification which included new paths, the construction of bedding areas for planting and the installation of information boards. In the course of this work a circular brick structure was revealed and OAN were invited to
supervise its exposure. The land lies within the extent of the Netherhall Blast Furnace and corn mill complex, which has been subject previously to large-scale excavations.
Much of the site is now beneath a supermarket, but the coke ovens in the western part of the complex have recently been conserved for permanent display.
Over the course of one day a small area of open ground was briefly examined. In one area, just below the surface, were the remains of an annular brick structure, with an external diameter of 3.0m and an internal diameter of 2.3m. The structure was exposed by manual excavation, to a depth of 0.3m, around the perimeter. The western arc of the
structure was incomplete, being interrupted by a deliberate slot, again of brick and appeared to be part of the original build. The bricks were unfrogged and were bonded with a mid grey mortar; the uppermost exposed coarse had the remains of mortar bonding indicating that the structure had at least one more additional coarse. The slot appeared to be an access point, built of the same materials but with slate lined depressions which may have acted as a lintel rest.
Actions (login required)