Brady, Kate Brasenose College, Oxford. [Client Report] (Unpublished)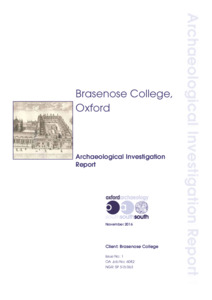 Preview
PDF




OXBZ14-15.pdf


Download (6MB) | Preview
Abstract
In February and November 2015 Oxford Archaeology carried out an excavation and watching brief prior to and during the refurbishment of the Old Cloisters of Brasenose
College, Oxford. The works were carried out to provide information on the location of known burials beneath the Cloister and enable the protection of these from impact by the development. The excavation took place within a single trench within the cloisters and the watching brief monitored drainage trenches in the Deer Park Quadrangle and the Stocker Room.
The excavation and watching brief revealed a boundary wall of probable medieval date that
once divided the medieval properties of St Mary's Entry and Little St Edmunds Hall. A well of probable late medieval date was revealed within the 'Deer Park' Quad. This is almost certainly associated with the medieval kitchen at Brasenose which is still present within the
college site.
Early 17th century evidence suggests that the area north of the medieval boundary wall was a garden space and then a yard used for dumping. Evidence for two areas of cobbled surface may represent walkways on the southern side of the boundaries and related to the continued
observance of these medieval plot divisions in the early 17th century. Dumps of waste included material typical of a college site, including a significant assemblage of Frechen
drinking vessel sherds and animal bone with a higher proportion of game than would be found in a domestic context. Demolition material and residual medieval pottery to the south of the boundary wall probably derives from the demolition of the medieval frontage building
on Little St Edmund's plot. Later deposits attest to ground levelling prior to cloister construction and the later insertion of a drainage system.
Actions (login required)