Dunn, Paul (2019) 30-31 Friar Gate, Derby, Derbyshire. Archaeological Watching Brief Report. Project Report. Oxford Archaeology North. (Unpublished)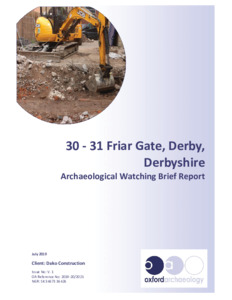 Preview
PDF




L11227_Report_PDFA.pdf


Download (7MB) | Preview
Abstract
Oxford Archaeology (OA) North were commissioned by Dako Construction to undertake a watching brief at the site of a residential development to the rear of 30 – 31 Friar Gate, Derby, Derbyshire (NGR SK 34673 36426). The work was undertaken as a condition of Planning Permission (planning ref. 02/17/00227). Consultation with the Development Control Archaeologist for Derbyshire County Council outlined their requirements for the work necessary to discharge the planning condition. OA North were commissioned to produce a Written Scheme of Investigation (WSI; Appendix D) and, subsequently, undertake the fieldwork. The fieldwork was undertaken over four days, 2nd, 3rd, 7th and 8th May 2019.
The archaeological watching brief monitored the removal of the concrete slab and overburden, to a maximum depth of 0.4m in the location of the foundation trenches, within the area of the new residential development. Archaeological features in the form of five walls were identified within the area, four of which likely relate to a square building seen on historic mapping, and although the building does not correspond exactly with the historic mapping, it appears to be of similar proportions. The fifth wall within the northern part of the area may relate to another square building identified on the historic mapping. There were no floor surfaces observed with either of these potential buildings.
There was very minimal impact upon the archaeological remains, principally due to the size of the development and the shallow depth of the formation level required. The archaeological remains observed during the watching brief likely relate to buildings identified on twentieth century historic mapping of the area.
Actions (login required)