McPhillips, Sean (2008) Adeplhi Street, Salford, Greater Manchester, Archaeological Building Survey and Excavation. [Client Report] (Unpublished)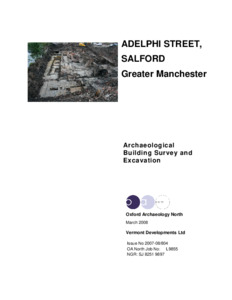 Preview
PDF




Adelphi_Street_Complete.pdf


Download (73MB) | Preview
Abstract
Vermont Developments has proposed to redevelop the site of the former Farmer Norton Engineering Works, located on the west side of Adelphi Street and overlooking the river Irwell in Salford, Greater Manchester (NGR SJ 8251 9897). The development proposals allowed for the demolition of all extant buildings on the site, followed by extensive ground works, including basement car parking. An archaeological desk-based assessment, undertaken by Wardell Armstrong (2006), identified some potential for buried remains of archaeological interest to survive on the site, namely an early nineteenth-century dye works, associated industrial structures, and workers' housing. In addition, one of the extant buildings, stylistically of a c 1860 date, was considered to be of archaeological importance.
In order to secure archaeological interests, Salford City Council, acting on the advice of the Greater Manchester Archaeological Unit, attached a condition to the planning consent, which required an appropriate level of archaeological recording in advance of development. In the first instance, a Level II-type survey of the extant building was required, which was to be followed by a programme of evaluation trenching. This was to comprise the excavation of six targeted trial trenches across the site, which were intended to assess the extent, nature and preservation of buried remains on the site. In accordance with this recommendation, Oxford Archaeology North (OA North) was commissioned by Vermont Developments to carry out the specified programme of archaeological works.
The evaluation confirmed that well-preserved buried remains of the former dye works and associated workers' housing, all dating to the early nineteenth century, survived in-situ. Following consultation with the Assistant County Archaeologist for Greater Manchester and the Salford Conservation Officer, it was recommended that two parts of the site were subject to further archaeological excavation to provide a detailed mitigation record of the buried structures in advance of their ultimate destruction. The excavation was targeted on the remains of the workers' housing along the eastern and southern edges of the site, and the dye house along the western side of the site. The excavation was carried out by OA North in July 2007, and was followed by an archaeological watching brief that monitored earth-moving works across ancillary elements of the former dye works.
The excavation of the workers' houses furnished valuable evidence for the nature of cellar dwellings in Salford during the early nineteenth century, and yielded a regionally significant assemblage of clay tobacco pipe fragments, which included manufacturing waste and kiln debris. The investigation of the dye works was targeted upon the principal processing areas, and revealed well-preserved remains associated with various stages of natural and synthetic dye processing.
Actions (login required)