Bates, Andrew (2009) Boundary Wall, Middleton House, Derby, Derbyshire, Survey Report. [Client Report] (Unpublished)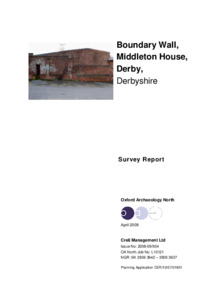 Preview
PDF




Middleton_House_Survey_Complete.pdf


Download (3MB) | Preview
Abstract
In April 2009, Oxford Archaeology North was commissioned by Cre8 Management Ltd, acting on behalf of Blueprint, to undertake an archaeological survey of a boundary wall situated to the rear of two Grade II listed buildings on St Mary's Gate in the centre of Derby (NGR SK 3506 3642 – 3509 3637). The wall lies on a plot of land that is the focus of a current planning application (DER/10/07/01951), which proposes the erection of apartments, retail units, a café/restaurant, offices and associated car parking. The proposed development requires the partial demolition of the boundary wall to facilitate the creation of a walkway between the scheme area and historic buildings to the east.
In order to secure archaeological interests, the Local Planning Authority recommended that an archaeological survey of the wall be undertaken in advance of demolition. It was recommended that the survey was carried out in accordance with Level 1 recording outlined in the English Heritage guidance notes Understanding Historic Buildings (English Heritage 2006), and included a written account noting materials, form, precise location, a photographic record and a sketched elevation.
Analysis of historical mapping indicated that the wall was probably erected originally between 1806 and 1838. However, the survey has demonstrated that the wall comprised several sections, probably of different dates, with the northern section also having been remodelled for the insertion of a building facade and gateway. This corresponds with the cartographic evidence, with a plan of 1852 showing three separate buildings on the eastern side of the wall. Given the amount of remodelling, and its overall condition, the wall is considered to be of low local archaeological
importance.
Actions (login required)