Miller, Ian (2007) 4-14 Great Moor Street, Bolton, Greater Manchester- Archaeological Desk-Based Assessment. [Client Report] (Unpublished)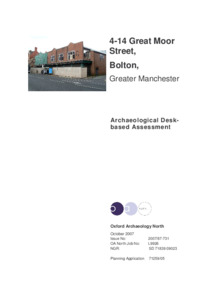 Preview
PDF




Great_Moor_St_Complete.pdf


Download (41MB) | Preview
Abstract
In September 2007, Worksharp Ltd commissioned Oxford Archaeology North (OA North) to undertake an archaeological desk-based assessment of land bounded by Great Moor Street, Chancery Lane, Back Bradshawgate, and Lottery Row in Bolton, Greater Manchester (centred on NGR SD 71839 09023). The study aimed to assess the potential for significant buried archaeological remains on the site, and was required to support and inform a planning application for a scheme of redevelopment (Planning Application 71259/05).
The desk-based assessment identified six sites of archaeological interest within the Scheme Area, all of which were recognised from map regression analysis. The sites are all of a 19th-century date, although may be divided into two groups; mixed residential and commercial buildings that represented the rapid and unregulated urbanisation of Bolton during the early 19th century, and those pertaining to the planned redevelopment of the site during the later part of the century. These buildings had all been demolished by the late 20th century, and the Scheme Area is presently occupied by a modern two-storey retail premises. This building is to be demolished as part of the proposed development, and replaced with a multi-storey block. The new building will not incorporate a basement, and it is not envisaged that its construction will necessitate large-scale ground-reduction works. These factors limit any negative impact on buried archaeological remains that may survive on the site, although the new building will require piled foundations.
The application site does not lie within a Conservation Area, or have any other statutory designation, and none of the archaeological sites identified within the boundary of the site are considered to be of National or Regional/County importance, which would merit preservation in-situ. Development of the site, however, may have an archaeological impact on buried remains of Local/Borough importance, involving their damage or destruction as a result of piling. In particular, historical mapping has indicated that a row of dwellings that occupied the northern boundary of the site in the early 19th-century may have incorporated cellars, the buried remains of which are likely to survive. These remains may require a mitigation strategy to allow for their permanent preservation by record, should the development result in their ultimate destruction. In addition, a Grade II Listed Building lies immediately adjacent to the site, and any alteration to this building by the proposed development will require the relevant consent.
Actions (login required)