Street, Rachel (2015) The Village, St John, Water Street, Manchester- Archaeological Desk-Based Assessment. [Client Report] (Unpublished)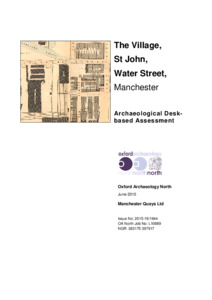 Preview
PDF




The Village, St John_Archaeological Assessment.pdf


Download (9MB) | Preview
Abstract
Manchester Quays Limited, a joint venture between Manchester City Council and Allied London Properties Ltd, is devising proposals for a major new development on the south-western edge of Manchester city centre, known as St Johns. This landmark scheme at a prominent gateway location to the wider city centre will create a new neighbourhood on the site of the former Granada Television Estate, together with adjacent cleared sites between Water Street and the River Irwell. A key component of the development involves the creation of a mixed use space, referred to as The Village (centred on NGR 383175 397917), which will recreate Manchester's narrow street grain and comprise workspace, retail and residential, interspersed with public realm and green space. The development will necessitate the demolition of all existing buildings on the site, apart from an accumulator tower dating to c 1880, a nondesignated heritage asset, which is to be retained and integrated into the new public realm.
In order to secure archaeological interests and inform the development process, Manchester Quays Limited commissioned Oxford Archaeology North to undertake an archaeological assessment of the site. This aimed to establish, as far as possible, the nature and significance of the sub-surface archaeological resource within the area, and assess the impact of any future development upon this resource; this report focuses on the below-ground archaeological resource, as a detailed consideration of the aboveground historic environment is presented in a separate heritage appraisal that has been prepared for the wider proposed St Johns development.
In total, 135 heritage assets have been identified within a study area of 500m, of which only 14 lie within the boundary of the present Site Area. None of the heritage assets within the Site Area are afforded statutory designation, although the site lies within the Castlefield Conservation Area. Of the non-designated sites of archaeological interest that have been identified within the Site Area, it is likely that only four have any potential to survive as buried remains, as the others are likely to have been damaged or destroyed entirely during nineteenth- and twentieth-century development.
Actions (login required)