Graham, Steven (2019) Land West of Chitts Hill, Stanway, Colchester, Essex. [Client Report] (Unpublished)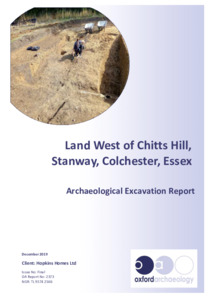 Preview
PDF




OAE_Report_2373_XEXCHS19_LR.pdf


Available under License Creative Commons Attribution Share Alike.
Download (6MB) | Preview
Abstract
In September 2019 Oxford Archaeology East (OA East) carried out archaeological excavations at land to the west of Chitts Hill, Stanway, Colchester, Essex. Two areas were opened up within the proposed 5.77ha residential development, targeting a ring-ditch defined by a previous evaluation undertaken in 2017 and also across the projected line of the presumed Roman (post Boudican) Gryme's Dyke.
Area 1 was a 30m x 30m excavation area centred on the ring-ditch; however, following extensive investigation, the feature was shown not to exist. The only additional archaeological features present were two small charcoal-rich pits, one of which was radiocarbon dated to the Middle-Late Anglo-Saxon period; the pits most probably related to charcoal production.
Area 2 was a 30m x 6m trench across the projected line of Gryme's Dyke, targeting a possible feature identified by geophysical survey. However, the dyke was not present within the excavated area and a linear feature noted in the geophysical survey was most likely a modern drain pipe. The dyke was clearly not present at this location and could possibly have been located to the east, outside of the development area. No further archaeological features or deposits were evident.
Item Type:
Client Report
Uncontrolled Keywords:
Essex, essex, Stanway, stanway, Excavation, excavation, pit, pits, charcoal, SUERC, suerc, C14, c14, C14 dating, carbon dating, radiocarbon dating, Early Medieval, early medieval, 2373, report 2373, Report 2373, OAE report 2373
Subjects:
Geographical Areas > English Counties > Essex
Period > UK Periods > Early Medieval 410 - 1066 AD
Period > UK Periods > Post Medieval 1540 - 1901 AD
Divisions:
Oxford Archaeology East
Depositing User:

Hamilton

Date Deposited:
29 Jan 2020 13:40
Last Modified:
29 Jan 2020 13:40
URI:
http://eprints.oxfordarchaeology.com/id/eprint/5685
Actions (login required)