Blackbourn, Kathryn (2017) Early Saxon cremation, a Medieval Settlement and post-medieval boundary ditches along the Poringland to Whitlingham pipeline, Norfolk. [Client Report] (Unpublished)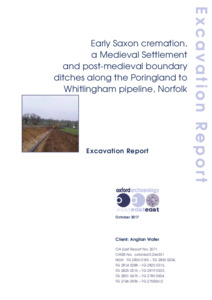 Preview
PDF




Report 2071_LR.pdf


Available under License Creative Commons Attribution Share Alike.
Download (8MB) | Preview
Abstract
Oxford Archaeology East undertook an archaeological excavation from the 10th of January to 16th February 2017 along the Poringland to Whitlingham pipeline (TG 2855 0183 to TG 27500612). A total of six sites were identified across the scheme, four sites for archaeological monitoring (Site 1, 3, 4 and 6), one site for trial trench evaluation (Site 2) and an area of strip, map and sample (Site 5).
The sites that underwent archaeological monitoring yielded little results with only Site 6 comprising three ditches on an east to west alignment two of which aligned with post-medieval (Phase 5) boundaries. The trial trench evaluation comprised 5 trenches measuring between 30m and 50m in length. Trench 3 yielded a single ditch with a north-east to south-west alignment, thought to be of a post-medieval date (Phase 5).
Site 5, the strip, map and sample area, yielded a number of features comprising a cremation burial pit, ditches, a hollow way, pits, post-holes, gullys and two flint spreads. Phase 1 (Early Saxon) comprised a single cremation burial, the cremated remains sat within a vessel of Early Saxon date and a fragment of bone yielded a carbon date of late 5th to early 7th century. The remainder of the features within this area have been assigned to three phases of medieval activity. The first phase (Phase 2: 10th to 11th century) comprises only a single pit although pottery dating to this phase has been recovered from a number of features on site in small quantities. The majority of the features have been assigned to Phase 3 (11th to 14th century). Within this phase a possible post-built structure, a hollow way and a flint surface were identified in the northern part of the excavation, suggestive of the medieval settlement identified to the west via NMP data (NHER 52447) extending further east than the cropmarks suggest. The southern excavation area largely yielded ditches, representing field boundaries, alongside a flint surface thought to be of agricultural use. This flint surface yielded the largest assemblage of pottery (221g) from all the features on site.
The final phase (Phase 4: 14th to 15th century) comprised a spread overlying a flint surface and three ditches all of which contained large quantities of pottery of a 14th to 15th century date. This appears to mark a period abandonment or clearance prior to the site being emparked at some point in the 17th century where it became Kirby Bedon Deer Park (NHER 52456).
Item Type:
Client Report
Uncontrolled Keywords:
Norfolk, norfolk, Poringland, porlingland, Whitlingham, whitlingham, watching brief, Watching Brief, Evaluation, evaluation, Excavation, excavation, Early medieval, early medieval, Saxon, saxon, pit, pits, post hole, posthole, ditch, ditches, cremation, cremated bone, burial, cremation burial pit, HSR, hsr, human remains, C14, c14, radiocarbon dating, radiocarbon date, Surface, mettled surface, flint surface, Medieval, medieval, pot, pottery, Pottery, ceramic, sherd, Early medieval pottery, early medieval pottery, Medieval pottery, medieval pottery, structure, post-built structure, pipe line, pipeline, field boundary, field boundaries, boundary ditch, boundary ditches, agriculture, deer park, 2071, report 2071, Report 2071, OAE report 2071
Subjects:
Geographical Areas > English Counties > Norfolk
Period > UK Periods > Early Medieval 410 - 1066 AD
Period > UK Periods > Medieval 1066 - 1540 AD
Period > UK Periods > Post Medieval 1540 - 1901 AD
Divisions:
Oxford Archaeology East
Depositing User:

Hamilton

Date Deposited:
04 Feb 2020 12:02
Last Modified:
04 Feb 2020 12:02
URI:
http://eprints.oxfordarchaeology.com/id/eprint/5691
Actions (login required)