Hughes, Vix (2002) A58 Blackbrook Diversion, St Helen's, Merseyside. Archaeological Assessment. Project Report. Oxford Archaeology North. (Unpublished)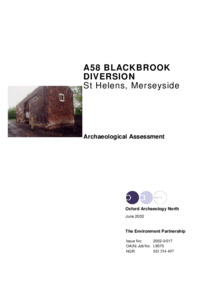 Preview
PDF




L9070_Blackbrook_Complete_Final_Report.pdf


Download (3MB) | Preview
Abstract
Following a request by Sarah Coffey of The Environment Partnership, Oxford Archaeology North (OAN), undertook a rapid desk-based assessment and identification
survey, in May 2002, of the proposed A58 Blackbrook Road Diversion, St Helens, Merseyside (SJ 3540 4970). This report follows on from an earlier assessment completed
in 1993 by AC Archaeology on the same site; the routes proved to be only subtly different, and many of the conclusions drawn are similar.
The assessment examined primary records held within the Lancashire County Record Office, the Merseyside Sites and Monuments Record, and local studies libraries in
Lancaster and St Helens. It highlighted the archaeological potential from within the study area and sites in close proximity, as well as the results of nearby archaeological
excavations. In total, 15 existing SMR sites are recorded within, or immediately adjacent to, the study area, the majority of which are post-medieval structures and sites relating to transport and the agricultural and industrial nature of the region. From cartographic
sources, two additional sites were identified and the identification survey recorded a further two sites, as well as establishing some recent changes in the survival of existing industrial archaeological features, since the previous report, nine years earlier.
Actions (login required)