Teague, Steve and D'Turberville, Alison New Lift Pit, Patey's Quad, Merton College, Oxford Excavation Report & ©Oxford Archaeology Ltd 15 March 2018 SCR Lift Installation, SCR Lift Installation, Merton College, Oxford Historic Building Recording. [Client Report] (Unpublished)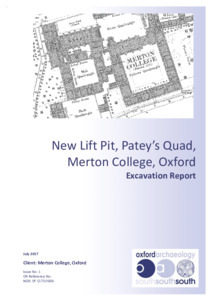 Preview
PDF




OXMEGH16.pdf


Download (1MB) | Preview

Preview
PDF




OXMEGH16_Building_Survey.pdf


Download (8MB) | Preview
Abstract
Oxford Archaeology undertook a programme of archaeological work at Patey's
Quad, Merton College, Oxford, in advance of the construction of a new lift. The
earliest evidence comprised several rubbish/quarry pits dated to the 12th to
early 13th century. They were probably contained within the rear of the
property of Henry Herprut, who resided there by 1235–6. Two of the later pits
contained roof tiles offering evidence for the refurbishment or construction of
his house. Later during the 13th century, a garden soil developed over which a
succession of gravel surfaces and a stone drain were constructed. They probably relate to a path leading from a gatehouse on Merton Street built during the construction of the college buildings between 1289–1311. Post-medieval evidence included a wall that formed part of a probable toilet block linking the
medieval Mob Quad with the 17th century Fellows' Quad. A stone-lined well filled during the late 18th century probably served the nearby kitchen in the Fellows' Quad.
&
SCR Lift Installation, Merton College, Oxford 1 ©Oxford Archaeology Ltd vii 28 February 2018 Summary Oxford Archaeology (OA) was commissioned by James Roach of BGS Architects, on behalf of Merton College, Oxford to undertake a programme of archaeological building recording and watching brief during the installation of a new lift extension to the Senior Common Room (SCR) at Merton College. The lift was to be installed in a new extension located on the east elevation of Patey's Quad which was constructed in 1610 and forms the west range of Fellows Quadrangle. This range extends southwards from the Hall and currently contains the college kitchen and potwash on the ground floor, servery and buttery on the first floor and Pantry and Senior Common Room on the second floor. The kitchen and east elevation of Pateys Quad had been extensively refurbished in 1960-62 which included the demolition of a series of buildings within Patey's Quad, the refacing of parts of the east elevation within Patey's Quad and the blocking of a passageway between Patey's and Fellows Quads.
The lift installation works included the opening up of two windows (first and second floors) to allow access to the lift and the rearrangement of some late 19th /early 20th century doors that were erected as a screen concealing the pantry on the second floor. No works took place on the ground or third floors, althought the external face is now enclosed by the lift extension. The areas exposed during the works were photographed and recorded in detail prior to and during the works and this report is the archaeological record of the building prior to its conversion.
Actions (login required)