Clarke, Steve (2018) Claughton Moor Quarry,Claughton, Lancashire, Archaeological Watching Brief Report. [Client Report] (Unpublished)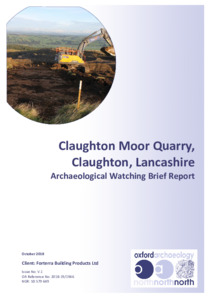 Preview
PDF




L11181_Report_Complete.pdf


Download (4MB) | Preview
Abstract
Oxford Archaeology (OA) North were commissioned by Forterra Building Products Ltd to undertake a watching brief over land at Claughton Moor Quarry, Lancashire (centred SD 579649) which they propose to quarry to extract brick shales. The work forms a continuation of the assessment of the archaeological potential at Claughton Quarry, with previous phases including a desk-based assessment (undertaken by Oxford Archaeological Associates Ltd
(OAA) (2001b), walkover surveys and watching briefs (OA North 2003 and 2015). Hanson Building Products (UK) Ltd were granted planning permission on February 14th 2000 (Application Ref 1/98/29), and the planning permission
subsequently passed to Forterra Building Products Ltd.
A brief for the archaeological fieldwork was issued in 2001 by OAA (2001a). A walkover survey and watching briefs were carried out during three successive seasons of fieldwork from 2001-2003. The first phase was carried out by OA
North in 2001, under the former guise of Lancaster University Archaeological Unit (LUAU), and was limited in area by the Foot and Mouth epidemic. In 2002, the walkover survey was completed and a further season of watching brief
was maintained on the extension to the quarry. Wet weather conditions meant that the poorly drained peat prevented work being completed on the quarry extension. Instead, a further season of fieldwork in 2003 saw topsoil stripping being completed under a watching brief.
The archaeological resource within the study area consisted mainly of features relating to post-medieval mineral extraction, but also included several earthwork enclosures probably associated with the earlier pastoral use of the
land. There was also potential for Mesolithic flint scatters.
The quarry was mothballed in 2010 but recently reopened and expanded. This recent expansion began in July 2015 with the stripping of topsoil and overburden. The watching brief undertaken in September 2018 is a further expansion of the quarry. An area measuring approximately 25m wide and 180m long was stripped of topsoil and overburden. The topsoil consisted of a dark brown peat some 0.3-0.4m thick, whilst the overburden comprised a mottled yellow plastic clay
0.4m thick merging into blue-grey plastic clay some 0.3m thick.
No features or finds of archaeological significance were noted within the area of ground disturbance during this and previous phases of fieldwork. Consequently, the site as a whole seems to be generally of low archaeological
potential, reflecting its use over time for mainly pastoral activities.
Actions (login required)