Clarke, Graeme and Greef, Andrew (2018) 45-86 Eastfield, East Chesterton, Cambridge: PXA and UPD. [Client Report] (Unpublished)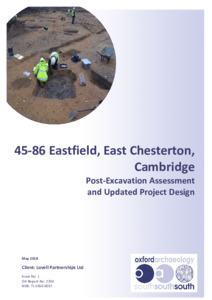 Preview
PDF




ECB4817_OAEreport2104_PXA.pdf


Available under License Creative Commons Attribution Share Alike.
Download (11MB) | Preview
Abstract
Between December 2016 and January 2018 Oxford Archaeology East (OA East) carried out three separate phases of excavation at Nos.45-86 Eastfield, East Chesterton, Cambridge. Three areas (Areas 1-3) were excavated within a
proposed 1.4ha residential development that extended to the east and west of Eastfield Road. The site lies within the suburban setting of Chesterton, a suburb extending to the east of Cambridge, along the north bank of the River Cam. The excavations comprised Area 1 (0.24ha; 12th December 2016 to 18th January 2017) and Area 2 (0.17ha; 7-24th March 2017) that extended around the northern and southeastern parts of the development respectively; to the east of Eastfield Road. Area 3 (1st November 2017 to 9th January 2018) comprised a 0.17ha excavation within the southwestern part of the
development; to the west of Eastfield Road. The locations of each excavation area were based on the results of previous stages of evaluation. These were conducted by OA East across each area from January 2016 (Area 2) through to October/November 2016 (Area 1) and finally August 2017 (Area 3).
The excavations recovered an assemblage of residual Mesolithic flint reworked primarily into the fills of a linear arrangement of Early Iron Age pits within Area 1. A few of these pits contained substantial pottery assemblages
along with some fragmentary human bone. A possible heavily truncated oven was also present. The pitting activity continued into the Middle Iron Age period associated with a partly revealed rectilinear enclosure. These remains
were succeeded in Area 1 by a more substantial rectilinear enclosure of Late Iron Age date.
The excavation of Area 3 confirmed that the broad, scrub-filled linear depression along the site's southwestern boundary was the extant remains of 'Covens Moat', believed to be a medieval manorial site. Furthermore, a metalled surface observed in Area 3 trenches confirmed the presence of a historical road that passed to the east of the moat. These, along with further medieval features, including a large number of pits and post-built structures,
suggested a wider zone of more intensive occupation, centred on the manor.
Area 3 also produced the bulk of the metalwork as well as slag items suggesting metalworking in the near vicinity. Furthermore, a single medieval pit in Area 1 was found to contain multiple pig burials. Partly revealed plots of
land were revealed in Area 2, that contained the remains of further post-built structures and pitting activity of medieval date, produced the bulk of the medieval pottery assemblage (c.AD 1150-1450). This medieval occupation
apparently ceased either towards the end of the medieval period or early post-medieval period, when the extent of the site became part of a set of large enclosures.
Item Type:
Client Report
Uncontrolled Keywords:
Excavation, excavation, archaeological excavation, Cambridgeshire, cambridgeshire, Cambridge, cambridge, Chesterton, chesterton, Eastfields, eastfields, Eastfield, eastfield, PXA, pxa, Post-Excavation Assessment, Post-excavation Assessment, post-excavation assessment, UPD, upd, Updated Project Design, updated project design, PXA and UPD, pxa and upd, Mesolithic, mesolithic, Iron Age, iron age, Early iron Age, early iron age, Middle Iron Age, middle iron age, Late Iron Age, late iron age, Flint, flint, worked flint, worked flints, lithic, lithics, lithic implement, lithic implements, redeposit, redeposited redeposited flints, Mesolithic Flint, Mesolithic flint, Mesolithic worked flint, Mesolithic worked flints, Mesolithic lithic, Mesolithic lithics, Mesolithic lithic implement, Mesolithic lithic implements, mesolithic Flint, mesolithic flint, mesolithic worked flint, mesolithic worked flints, mesolithic lithic, mesolithic lithics, mesolithic lithic implement, mesolithic lithic implements, pit, pits, pit alignment, Pottery, pottery, pot, ceramic, sherd, vessel, Iron Age, pottery, iron age pottery, Roman, roman, Roman pottery, roman pottery, Medieval, medieval, Medieval pottery, medieval pottery, bone, bones, animal bones, animal bone, animal remains, HSR, hsr, human remains, human bone, disartic, disarticulated, disarticulated human bone, disarticulated human remains, enclosure, rectilinear enclosure, Covens Moat, Coven's Moat, covens moat, coven's moat, manorial site, medieval manorial site, moat, Moat, linear feature, ditch, ditches, pit, pits, post-built, post built, structure, post-built structure, post built structure, metalworking, metal-working, pig burial, pig burials, pig, pigs, agriculture, farming, 2104, report 2104, Report 2104, OAE report 2104
Subjects:
Geographical Areas > English Counties > Cambridgeshire
Period > UK Periods > Iron Age 800 BC - 43 AD > Early Iron Age 800 - 400 BC
Period > UK Periods > Iron Age 800 BC - 43 AD
Period > UK Periods > Iron Age 800 BC - 43 AD > Late Iron Age 100 BC - 43 AD
Period > UK Periods > Medieval 1066 - 1540 AD
Period > UK Periods > Mesolithic 10,000 - 4,000 BC
Period > UK Periods > Iron Age 800 BC - 43 AD > Middle Iron Age 400 - 100 BC
Divisions:
Oxford Archaeology East
Depositing User:

Hamilton

Date Deposited:
09 Oct 2020 11:45
Last Modified:
04 Oct 2021 12:48
URI:
http://eprints.oxfordarchaeology.com/id/eprint/5839
Actions (login required)