Moan, Louise (2019) Multi-period remains at Warth Park Phase 3, Raunds, Northamptonshire: PXA and UPD. [Client Report] (Unpublished)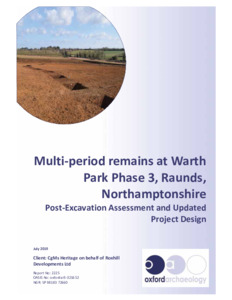 Preview
PDF




OAE_Report 2225_XNNWAR17_LR.pdf


Available under License Creative Commons Attribution Share Alike.
Download (7MB) | Preview
Abstract
Between November 2017 and June 2018 Oxford Archaeology East carried out a 12.2ha excavation on farmland off Meadow Lane, Raunds, Northamptonshire (SP 98183 72660) ahead of the Phase III construction of an industrial estate with associated amenities.
The archaeological works revealed evidence for activity spanning the Early Neolithic to Middle Saxon periods. From at least the early 18th century the site has been under cultivation and has consequently suffered from the effects of continual ploughing since then, resulting in some features being highly truncated.
Early Neolithic remains were categorised by the presence of the monumental double ditched enclosure recorded in the Northamptonshire Historic Environment Record (NHER) as Cotton Henge. A small number of Late Neolithic pits containing quantities of pottery and struck flint were also identified. Sparse Bronze Age remains in the form of a pit alignment, pit group and a Middle Bronze Age field system were revealed and it was notable that the inner ring of Cotton Henge was seemingly incorporated into this field system.
A dense area of settlement remains, dating to the Early-Middle Iron Age transition, was recorded across the north-easternmost portion of the site, consisting of ring gullies, posthole structures and numerous storage pits. A large finds assemblage of pottery, animal bone, fired clay triangular weights and objects of worked stone were recovered from these features along with rich environmental remains. Romano-British activity dominated the site, with non-settlement, industrial and agrarian related remains encompassing the western half of the site. The features identified comprised ditches, pits and postholes, gravel quarrying, a cobbled trackway, pottery kiln, corn drier, five inhumations, a cremation and six stone lined wells. The wells were particularly notable for containing large finds assemblages including almost 8kg of pottery (complete and near-complete vessels were amongst the assemblage), animal bone (over 27kg) and at least 13 leather shoes from the lower, waterlogged fills. The most impressive waterlogged artefact consisted of a near life-sized carved wooden arm, believed to be a votive offering, crafted as a single object to be deposited. Low-level Anglo-Saxon remains in the form of six sunken-feature buildings (SFBs), a ditch and a small rectangular enclosure were also identified.
Overall the archaeological works have identified remains spanning around five millennia, indicative of a widely exploited and managed landscape. The remains are likely to be related to an agricultural settlement, with associated industrial and funerary activity, linked to known settlement areas in the wider environs.
Item Type:
Client Report
Uncontrolled Keywords:
Northamptonshire, northamptonshire, Raunds, raunds, Excavation excavation, archaeological excavation, PXA, UPD, pxa, upd, PXA and UPD, pxa and upd, Post-Excavation Assessment, Post-excavation Assessment, post-excavation assessment, Updated, Project Design, updated project design, Warth Park, warth park, Cotton Henge, cotton henge, Neolithic, neolithic, Early neolithic, early neolithic, ditched enclosure, double ditched enclosure, monumental double ditched enclosure, Late Neolithic, late neolithic, pit, pits, field system, agriculture, farming, land division, Pottery, pottery, pot, ceramic, sherd, vessel, Neolithic pottery, neolithic pottery, Late Neolithic pottery, late neolithic pottery, Bronze Age, bronze age, Bronze Age pottery, bronze age pottery, Iron Age, iron age, Early Iron Age, early iron age, Middle Iron Age, transition, transition period, Early-Middle Iron Age transition, post, post-built structure, post-built structures, structure, structures, ring gully, ring gullies, roundhouse, round house, Iron Age pottery, iron age pottery, Early Iron Age pottery, early iron age pottery, Middle Iron Age pottery, weight, weights, fired clay, Iron Age fired clay weights, animal bone, animal bones, bone, bones, animal remains, ecofacts, Roman, roman, Romano-British, Romano-british, romano-british, settlement, non-settlement activity, agrarian, industrial, Roman pottery, roman pottery, Romano-British pottery, Romano-british pottery, romano-british pottery, kiln, pottery kiln, corn drier, corn-drier, trackway, cobbled, cobbled trackway, quarry, quarry pit, extractive pit, gravel, gravel quarry, HSR, hsr, Human Remains, human remains, inhumation, burial, cremation, well, wells, stone-lined well, wood, worked wood, waterlogged wood, arm, wooden arm, carved wooden arm, votive, votive offering, early medieval, Early Medieval, early medieval pottery, Early Medieval pottery, SFB, sfb, sunken featured building, Sunken Featured Building, 2225, report 2225, Report 2225, OAE report 2225
Subjects:
Geographical Areas > English Counties > Northamptonshire
Period > UK Periods > Bronze Age 2500 - 700 BC
Period > UK Periods > Iron Age 800 BC - 43 AD > Early Iron Age 800 - 400 BC
Period > UK Periods > Early Medieval 410 - 1066 AD
Period > UK Periods > Neolithic 4000 - 2200 BC > Early Neolithic 4000 - 3000 BC
Period > UK Periods > Iron Age 800 BC - 43 AD
Period > UK Periods > Neolithic 4000 - 2200 BC > Late Neolithic 2700 - 2200 BC
Period > UK Periods > Iron Age 800 BC - 43 AD > Middle Iron Age 400 - 100 BC
Period > UK Periods > Neolithic 4000 - 2200 BC
Period > UK Periods > Roman 43 - 410 AD
Divisions:
Oxford Archaeology East
Depositing User:

Hamilton

Date Deposited:
08 Dec 2020 14:13
Last Modified:
08 Dec 2020 14:19
URI:
http://eprints.oxfordarchaeology.com/id/eprint/5895
Actions (login required)