Billington, Lawrence and Browne, David (2020) An Enclosure to the North of Baldock Road, Royston, Hertfordshire. [Client Report] (Unpublished)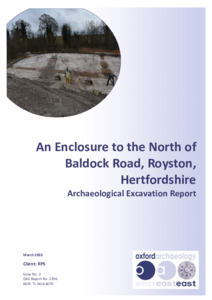 Preview
PDF




OAE_Report 2296_XHTBKR19_LR.pdf


Available under License Creative Commons Attribution Share Alike.
Download (6MB) | Preview
Abstract
Between the 11th and 21st of February 2019 Oxford Archaeology undertook an excavation north of Baldock Road, Royston. The excavation targeted an enclosure first identified by aerial photography and subsequently investigated during two phases of trial trenching. The excavation revealed a small, square enclosure defined by a fairly substantial ditch, measuring approximately 27m across with a single, west facing entranceway. Despite intensive excavation, very few finds were recovered from the enclosure ditches, but a sample bone of bone form the primary fill of the ditch has been radiocarbon dated to 670-770 cal AD, and sherds from a single Middle Saxon pottery vessel, dating to between c. 720-850 AD, were recovered from its upper fills.
Few other features were encountered during the excavation, but a group of probably contemporary pits/postholes were revealed in and around the enclosure entrance. A small group of internal pits and postholes were also revealed; several of these produced post-medieval tile, but three other features remain poorly dated and were marked by charcoal rich fills containing small quantities of iron slag and hammerscale. A post-medieval/early modern trackway also crossed the excavation area, and corresponds to a track shown on first edition OS mapping.
The function of the Middle Saxon enclosure remains uncertain and at present it seems to be essentially unparalleled, although it may be loosely related to a group of somewhat earlier, 7th century, Saxon 'shrines' known from sites elsewhere in the country, and a potential ceremonial or ritual purpose is consistent with the lack of evidence for domestic type activity.
Item Type:
Client Report
Uncontrolled Keywords:
Hertfordshire, hertfordshire, Royston, royston, excavation, Excavation, archaeological excavation, enclosure, Enclosure, enclosure ditch, Early Medieval, early medieval, Early Medieval enclosure, early medieval enclosure, pottery, Pottery, pot, ceramic, sherd, vessel, Early Medieval pottery, early medieval pottery, Post-Medieval, post-medieval, Post Medieval, post medieval, Post-Medieval pottery, post-medieval pottery, Post Medieval pottery, post medieval pottery, trackway, Post-Medieval trackway, post-medieval trackway, Post Medieval trackway, post medieval trackway, hammerscale, hammer scale, slag, 2296, report 2296, Report 2296, OAE report 2296
Subjects:
Geographical Areas > English Counties > Hertfordshire
Period > UK Periods > Early Medieval 410 - 1066 AD
Period > UK Periods > Post Medieval 1540 - 1901 AD
Divisions:
Oxford Archaeology East
Depositing User:

Hamilton

Date Deposited:
18 Feb 2021 13:35
Last Modified:
18 Feb 2021 13:35
URI:
http://eprints.oxfordarchaeology.com/id/eprint/5936
Actions (login required)