Boothroyd, John Land at Bayswater Brook, Oxfordshire. [Client Report] (Unpublished)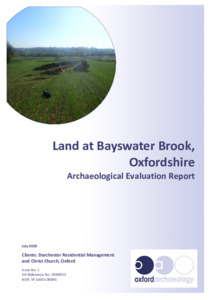 Preview
PDF




OXBB20.pdf


Download (13MB) | Preview
Abstract
Between the 16th March and the 14th May 2020, Oxford Archaeology
undertook a trial trench evaluation on land north of Bayswater Brook which
has been allocated in large part for a strategic development including new
dwellings, supporting services and infrastructure, together with transport
access works located towards the western part of the site in the submitted
South Oxfordshire District Council Local Plan.
The trenches were positioned to enable the investigation of anomalies of
potential archaeological interest identified by geophysical survey and known
from cropmarks. The position and number if trenches was agreed with Richard
Oram, Planning Archaeologist, prior to the work being carried out. Of the 219
proposed trenches, 212 were excavated, with sensitive ecological restraints
and land access rights preventing the excavation of the remaining trenches. In
addition, several of the trenches had to be repositioned from their proposed
locations due to the ecological restraints, and this was agreed with
Oxfordshire County Council.
In general, the results of the evaluation suggest an agricultural landscape with
land management ditches comprising the majority of the archaeological
features identified. Enclosure ditches of Roman date were recorded in the
central part of the site. Similar activity was present to the east and west and
may be contemporary, but in these areas the ditches are largely undated and
a later, or earlier, date cannot be ruled out. No structural evidence of
Headington Wick Roman villa was identified within the trenches, despite the
far northern part of the site having been identified as its putative location
following a review of the 1849 excavation and the 2019 geophysical survey
data.
Three blue glass beads were recovered from a pit dated to the Saxon period,
an uncommon find in the Oxford area. However, no other activity of this date
was recorded within the site.
In addition, boundary ditches and a stone-laid trackway of post-medieval date
were present. The boundary ditches correspond to features identified from
historic mapping.
Actions (login required)