Hughes, Vix and Biddulph, Edward and Beeson, Anthony and Booth, Paul and Scott, Ian and Poole, Cynthia and Shaffrey, Ruth and McIntyre, Lauren and Donnelly, Mike and Keys, Lynne and Allen, Martyn and Fosberry, Rachel and Nicholson, Rebecca and Kilgour, Anne and Rousseaux, Charles Cattle Hill Roman Villa, Hadspen House, Bratton Seymour, Somerset Archaeological Excavation Report. [Client Report] (Unpublished)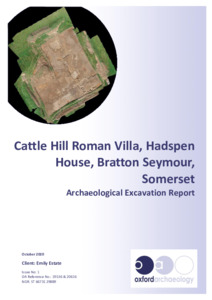 Preview
PDF




TTNCM_15.2018_Cattle_Hill_Hadspen_excavation_report.pdf


Download (9MB) | Preview
Abstract
Oxford Archaeology carried out archaeological investigations between 2015 and 2017, at Cattle Hill, Hadspen House, Bratton Seymour, Somerset, on the site of a known Roman villa, first recorded in the 19th century and partially excavated in the 1960s. A geophysical survey was undertaken in 2015, which was followed by trial-trench evaluation in 2016 and then open-area excavations in the summer of 2016 and spring of 2017.
The 3rd–4th-century AD villa complex, positioned on high ground within a productive agricultural landscape, was substantial, comprising an arrangement of well-preserved structures, outlying buildings and enclosures. Three buildings were identified, along with an open central area and external areas. The investigations demonstrated multiple phases of construction, occupation, alteration, and disuse. Polychrome mosaic floors were uncovered in three rooms (4, 6 and 7), pointing to high-status habitation. Two of the mosaics, the so-called 'Diana mosaic' and the 'geometric mosaic', were approximately 50% complete.
There is a moderate assemblage of finds including almost 7000 sherds of Roman pottery, 100 copper-alloy objects (approximately half of them being coins), over 1000 iron nails, shale objects, worked bone, glass fragments, numerous fragments of painted wall plaster and a large amount of worked stone, both as objects and building materials. A significant amount of charred plant remains, animal bones and industrial residues was retrieved through palaeoenvironmental sampling.
Actions (login required)