Hutton, Katie (2019) West Hall Farm, Gayton, Norfolk. [Client Report] (Unpublished)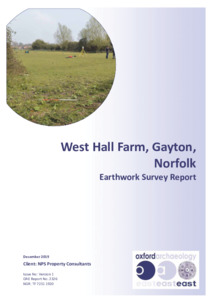 Preview
PDF




OAE_Report2326_XNFWFG19_LR.pdf


Available under License Creative Commons Attribution Share Alike.
Download (3MB) | Preview
Abstract
Archaeology East was commissioned to carry out an earthwork survey on land at West Hall Farm, Gayton, Norfolk (TF 7251 1920) in advance of the planning application for a new school. The site was divided in to six field areas A-F). The initial phase of work took place between the 16th and 17th April 2019 and covered Areas A, C-F and the eastern part of Area B. Further field work was conducted on the 4th October 2019 and covered the western part of Area B.
A total of 28 earthwork features were identified on the site ranging from those with a possible medieval origin to those relating to modern activity. The remains of ridge and furrow were recorded in Area A to the north of the bridleway whilst shallow earthworks of ridge and furrow were also located in Area F along with a possible headland.
The most significant remains were located in Areas C, D and E. A ditch and part of a brick wall survived at the north of Area C. These features can be seen on historic maps and appear to have been related to the post-medieval construction and use of West Hall Farm.
A series of ditches were located to the south and were orientated on a distinctly different alignment to those relating to West Hall Farm. A series of plots ranging from 5m to 50m wide, surrounded by ditches were located here. These plots were well preserved, with boundary ditches surviving up to 0.40m deep, and were aligned parallel with the extant bridleway (possibly following the course of an earlier lane) that runs through the site. These features, which include enclosures and two possible building platforms, appeared to pre-date those associated with West Hall Farm.
Actions (login required)