Billington, Lawrence and Robinson Zeki, Leanne (2020) Roman Settlement Remains South of Old School Lane, Upware, Cambridgeshire. [Client Report] (Unpublished)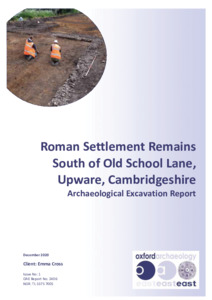 Preview
PDF




OAE_Report 2406_WICOSL18_LR.pdf


Available under License Creative Commons Attribution Share Alike.
Download (16MB) | Preview
Abstract
Between the 11th of December 2017 and the 11th of July 2018, Oxford Archaeology East carried out the archaeological excavation of an area adjacent to Old School Lane, Upware, Cambridgeshire. Alongside slight traces of earlier,
prehistoric, activity the excavations revealed extensive Romano-British remains, attesting to activity between the mid 2nd century and the later 4th century AD. A linear 'ladder' system of cojoined ditched enclosures was partially exposed in the southern part of the site, whilst a complex, multi-phase complex of small enclosures was revealed in the northern half of the site. Most significantly, the
well-preserved remains of a masonry-footed aisled building were partially exposed on the northern edge of excavation.
The various enclosure ditches produced relatively substantial finds assemblages and seem to have made up part of a major rural settlement located on the very southern end of the Upware 'promontory', immediately adjacent to the
contemporary fen edge and the course of the River Cam. Features associated with the enclosures included burials, pits, wells and a possible grain steeping/malting tank. The aisled building was represented by a set of large post holes associated with surviving masonry footings and internal
layers/surfaces, and major finds assemblages were recovered from a midden like deposit exposed immediately to the south of the structure. The fills of the post pipes of the structure's post settings produced very large assemblages of
charred grain, suggesting that it had been used for the storage of agricultural produce and had perhaps been destroyed by fire. Domestic use of at least part of the structure is, however, indicated by other finds, including painted wall plaster, from deposits associated with the building.
The finds and environmental evidence from the site indicate a prosperous agricultural settlement, with activity peaking in the 3rd and 4th centuries AD. The character of the pottery and metalwork hint at a relatively high status for
the site and indicate good access to contemporary networks of communication and exchange. This is also reflected by the site's distinctive topographic location, immediately adjacent to the River Cam, with access to the important network of navigable waterways in the southern fens. The site makes an important contribution to the record of Romano-British activity in this area, and represents the first excavation of a major site along this stretch of the Cam valley, downstream from the major enclave of Romano-British settlement and industry known from around the junction of the Cam and the Old Tillage (Car Dyke) at Horningsea/Waterbeach.
Item Type:
Client Report
Uncontrolled Keywords:
Excavation, excavation, archaeological excavation, Cambridgeshire, cambridgeshire, Wicken, wicken, Upware, upware, 2406, report 2406, Report 2406, OAE report 2406, Full Report, full report, Roman, roman, enclosure, enclosures, ladder enclosures, field system, roman field system, Roman field system, building, structure, aisled building, Roman building, Roman aisled building, masonry, masonry footed, masonry footer building, masonry footed aisled building, fen edge, River Cam, river cam, Pottery, pottery, pot, ceramic, sherd, vessel, Roman pottery, roman pottery, plaster, wall plaster, painted wall plaster, well, wells, burial, inhumation, human remains, human bone, human bones, bone, bones, charred grain, grain processing, midden, animal remains, animal bones, animal bone, malting tank, grain steeping tank, post hole, post holes, post pipe, agriculture, agricultural practices, waterlogged wood, building stone, quern stone, quern, spindle-whorl, shale, shale spindle-whorl, coin, coins, Roman coins, roman coins, Iron Age pottery, iron age pottery, fired clay, kiln plate, kiln furniture, worked bone hinge, glass, glass shard, vessel glass, ecofact, ecofacts
Subjects:
Geographical Areas > English Counties > Cambridgeshire
Period > UK Periods > Roman 43 - 410 AD
Divisions:
Oxford Archaeology East
Depositing User:

Hamilton

Date Deposited:
17 May 2021 13:03
Last Modified:
17 May 2021 13:03
URI:
http://eprints.oxfordarchaeology.com/id/eprint/6005
Actions (login required)