Atkins, Robert (2015) A Mid/Late Iron Age ditch and Medieval to modern settlement, Coldhams Lane, Cambridge. [Client Report] (Unpublished)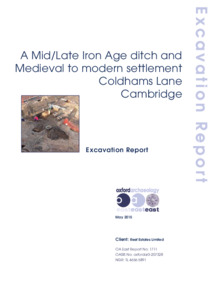 Preview
PDF




CAMCOL12_Report_1711_LR.pdf


Available under License Creative Commons Attribution Share Alike.
Download (9MB) | Preview
Abstract
Archaeological excavation by Oxford Archaeology East at Intercell House, Coldhams Lane, Cambridge (TL 4656 5891) was conducted between 17th December 2012 and 25th January 2013 in advance of the construction of a proposed new hotel. The excavation took place on the western third of the site following an evaluation (Atkins 2012b) that demonstrated the remainder of the site to be devoid of archaeological remains. This excavation report follows a post-excavation assessment and updated project design issued in 2013 (Atkins 2013).
A ditch along the northern edge of the site was the only feature dated to before the medieval period. A radiocarbon date from charcoal on a pottery sherd from the latest re-cut produced a date of 201-47 Cal BC with 95.4% probability (SUERC-46080 (GU30161)), thus dating the ditch as Middle to Late Iron Age.
The excavation found evidence of occupation dating from c. AD 1200 to the modern day, with a short period of abandonment from c.1550/1600 to c.1650. The excavation appears to have straddled parts of two former house property plots fronting Newmarket Road.
During the medieval period the site was part of the lay settlement of Barnwell Priory, the precinct wall of which was opposite the excavation on the northern side of Newmarket Road. Activity in the High Medieval period (c. AD 1200-1400) was represented by wells and a large number of pits, including two which had been clay lined. Several of these features contained moderate to large quantities of artefacts and ecofacts with waterlogged conditions in two well deposits producing particularly well preserved remains.
Fewer features were thought to belong to the period c. AD 1400-c.1550/1600 but they included structures, possibly workshops or outhouses or, less likely, houses fronting onto Coldhams Lane. Other features comprised pits including a cesspit or tank, with brick, tile and stone lining and part of its brick floor surviving. Amongst the stone were a few reused architectural pieces including carved examples. These features went out of use at around the time of the Dissolution or shortly after.
During a period of abandonment the site may have been converted to pasture and from the mid 17th century for dumping rubbish and/or cultivation. Evidence for 18th century occupation was found in the form of timber structures, possibly houses that would have fronted Coldhams Lane.
After Enclosure in c. AD 1808 there was a rapid increase in activity, represented by the quantity of features found. This corresponds with the cartographic and documentary evidence which record the site being owned by three individuals and/or organisations and comprising several properties/buildings, including cottages associated with poor houses/workhouses (the latter belonging to the parish of St Andrew the Less). Over this 200 year period to the present day the site was continually redeveloped with properties only standing for relatively short time periods before being replaced.
Item Type:
Client Report
Uncontrolled Keywords:
Cambridgeshire, cambridgeshire, Cambridge, cambridge, Coldhams Lane, Excavation, excavation, archaeological excavation, full report, Iron Age, iron age, Iron Age pottery, iron age pottery, Iron Age ditch, iron age ditch, Pottery, pottery, pot, ceramic, sherd, vessel, Medieval, medieval, Post-Medieval, post-medieval, post medieval, Post Medieval, Medieval pottery, medieval pottery, Post-Medieval pottery, post-medieval pottery, post medieval pottery, Post Medieval pottery, animal remains, animal bones, animal bone, bones bone, pit, pits, extractive pit, medieval extractive pit, structure, building, settlement, Barnwell, barnwell, Barnwell Priory, barnwell priory, medieval building, medieval buildings, post-built structure, post built structure, post hole, posthole, ecofact, ecofacts, charred grains, charred plant remains, insects, domestic, domestic use, plot, plot boundaries, medieval plot boundaries, well, medieval well, post-medieval well, CBM, cbm, Ceramic Building Material, ceramic building material, brick, tile, medieval brick, medieval tile, medieval floor brick, Iron Age spindle whorl, iron age spindle whorl, building stone, reused building stone, dissolution, Dissolution, back yard, garden soil, nail, hearth base, slag, medieval slag, 1711, report 1711, Report 1711, OAE report 1711
Subjects:
Geographical Areas > English Counties > Cambridgeshire
Period > UK Periods > Iron Age 800 BC - 43 AD
Period > UK Periods > Medieval 1066 - 1540 AD
Period > UK Periods > Modern 1901 - present
Period > UK Periods > Post Medieval 1540 - 1901 AD
Divisions:
Oxford Archaeology East
Depositing User:

Hamilton

Date Deposited:
18 May 2021 12:17
Last Modified:
18 May 2021 12:17
URI:
http://eprints.oxfordarchaeology.com/id/eprint/6008
Actions (login required)