Gregory, Richard and Brown, Fraser (2018) Redisher Works, Holcombe Brook, Bury, Greater Manchester Archaeological Investigation. [Client Report] (Unpublished)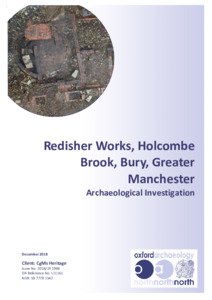 Preview
PDF




Redisher_Final_Report_Higher.pdf


Download (14MB) | Preview
Abstract
Oxford Archaeology (OA) North was commissioned by CgMs Heritage (Part of RPS), on behalf of Morris Homes, to undertake a programme of archaeological investigation at Redisher Works, Holcombe Brook, Bury, Greater Manchester, prior to redevelopment. The work was informed by earlier desk-based assessments, which indicate that the redevelopment area formed the site of a nineteenth- and twentieth-century textile works. Moreover, these
assessments suggested that this industrial-period site was established in the early nineteenth century, perhaps originally as a cotton spinning mill, which had been converted into a bleach works by the early 1840s, and that from 1898 until 1961 it functioned as both a bleach and
dye works. In addition, it is also evident that the redevelopment area contained the site of a short-lived later nineteenth-century brick works.
The current programme of work has been undertaken in order to fulfil an archaeological planning condition (planning ref: 59715, condition 17) placed on the redevelopment, and
comprised a building survey and an archaeological evaluation, which, on the basis of the results obtained from three of the trial trenches, was immediately followed by a larger open area excavation. This latter excavation focused on an area at the eastern end of the site and covered a portion of the footprint of the earlier nineteenth-century mill/bleach works. This area also covered that part of the bleach/dye works that was in operation in the earlier half
of the twentieth century. The building survey focused on two parts of the site that contained extant structures of early-mid-twentieth century date.
Actions (login required)