Fairbairn, James (2015) Archaeological excavation on the site of The Bell public house, Eaton Socon. [Client Report] (Unpublished)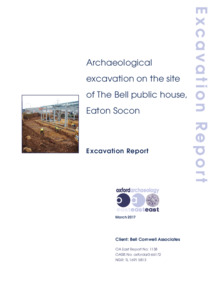 Preview
PDF




The Bell 1138 V2_reporttext_figs_LR .pdf


Available under License Creative Commons Attribution Share Alike.
Download (2MB) | Preview
Abstract
An archaeological excavation was conducted on land formally occupied by The Bell public house, Eaton Socon. St Neots. (TL 1691 5813) This was following an archaeological evaluation carried out by Oxford Archaeology East in October 2008.
The Archaeological excavation was carried out after the demolition of the Bell, but not before the steel structure and footings of the new drive through take away had been constructed. The erection of the sub structure and digging of footings along with associated drainage had a detrimental effect on the excavation process and its subsequent findings.
Oxford Archaeology East was commissioned by the client Bell Cornwell Associates to excavate an area of approximately 920sqm, this was in effect reduced to an area of 352sqm a loss of 568sqm.
The excavation revealed features dating to four phases of activity. The earliest phase consisted of a shallow Neolithic ditch. The second phase predominately dated to the mid 1st to later 3rd/4th centuries and consisted of ditches and pits thought to be part of the wider Romano-British agricultural estate identified in previous excavations to the North and West. Phases three and four of activity on the site were associated with The Bell public house and its outlying ancillary buildings.
Item Type:
Client Report
Uncontrolled Keywords:
Cambridgeshire, cambridgeshire, Eaton Socon, eaton socon, Excavation, excavation, archaeological excavation, Roman, roman, Post-Medieval, post-medieval, Post Medieval, post medieval, Pottery, pottery, pot, ceramic, sherd, vessel, Roman pottery, roman pottery, Post-Medieval pottery, post-medieval pottery, Post Medieval pottery, post medieval pottery, The Bell, the bell, The Bell public house, the bell public house, ancillary building, building, structure, pub, public house, droveway, drove way, roman drove way, Roman drove way, well, post-medieval well, Neolithic, neolithic, neolithic ditch, agriculture, agricultural estate, Roman agriculture, roman agriculture, quern, worked stone, saddle quern, rotary quern, 1138, report 1138, Report 1138, OAE report 1138
Subjects:
Geographical Areas > English Counties > Cambridgeshire
Period > UK Periods > Neolithic 4000 - 2200 BC
Period > UK Periods > Post Medieval 1540 - 1901 AD
Period > UK Periods > Roman 43 - 410 AD
Divisions:
Oxford Archaeology East
Depositing User:

Hamilton

Date Deposited:
04 Jun 2021 10:18
Last Modified:
04 Jun 2021 10:18
URI:
http://eprints.oxfordarchaeology.com/id/eprint/6024
Actions (login required)