Dunn, Paul Galava Shiel, Borrans Road, Ambleside, Cumbria Archaeological Watching Brief Report. [Client Report] (Unpublished)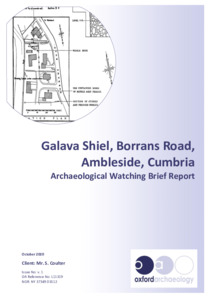 Preview
PDF




L11319_Report_Combined.pdf


Download (9MB) | Preview
Abstract
Oxford Archaeology (OA) North was commissioned by Mr Steven Coulter to
undertake an archaeological watching brief during the excavation of
foundations for a new extension at Galava Shiel, Borrans Road, Ambleside,
Cumbria (NGR: NY 37349 03512). The work was undertaken as a condition of
Planning Permission (planning ref 7/2019/5484).
The site subject to the archaeological watching brief lies c 120m to the northeast
of Ambleside Roman fort, known as Galava in classical sources. Although
the site is located outside the Scheduled area of the fort, it is within an area
where there is evidence for an extramural settlement, or vicus, which grew up
alongside the roads leading north and south-east from the fort.
Galava Shiel is one of several houses constructed in the 1960s on land
between Borrans Road and Fisher Beck, which runs down the eastern edge of
the fort. Roman pottery and other finds recorded c 40m to the south-east of
Galava Shiel were subject to a 'rescue' excavation in 1963 which recorded
waterlogged timber piles and stone-built platforms, as well as numerous
leather shoes. A burial urn in a stone-built cist, also unearthed during building
work, was found c 40m to the north.
A watching brief was undertaken at Galava Shiel over the course of a single
day on 6th August 2020, during the excavation of footings for a single-storey
extension. Despite the high potential for Roman finds at the site, none were
recovered and there was no evidence of archaeological remains. Previous
investigations in the area had encountered archaeological deposits at some
depth, including soils associated with nineteenth-century nursery gardening,
and waterlogged piles driven into marshland. It seems likely that modern
activity, including the construction of mid-twentieth century housing, has
reduced ground levels, truncating any archaeologically significant deposits.
Actions (login required)