Warner, Angela Former Gasholder Station, Oldham Street, Denton, Greater Manchester Historic Building Investigation and Recording Phases 1 and 2. [Client Report] (Unpublished)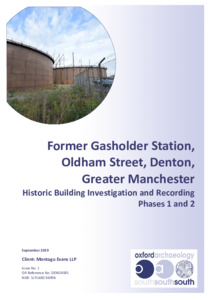 Preview
PDF




DENGAS18.pdf


Download (7MB) | Preview
Abstract
Oxford Archaeology was commissioned by Montagu Evans LLP on behalf of National
Grid to create an Historic Building Record of two gasholders and their ancillary
buildings at the former gasholder station at Oldham Street to the south-west of the
town centre of Denton in Greater Manchester.
Denton's gasworks were located to the north-west of the gasholder site and began
production in the late 19th century. The gasholder station was added around 1954
prior to the rebuilding of the gasworks. Two gasholders and three ancillary buildings
were all that remained of the gasworks and gasholder station.
Gasholders 3 and 4 were above-ground spiral-guided gasholders. Number 3 had three
lifts and was constructed in 1954, number 4 had four lifts and was constructed in 1968.
The Boiler House, Governor House and Compressor House survived in altered form to
the west of the gasholders.
The switch to natural gas in the late 1960s and the 1970s led to the closure and
demolition of gasworks across the country, although this gasholder station was
retained for storage. Changes in gas distribution in recent decades have rendered
gasholders redundant and the gasholders were isolated from the mains and
decommissioned some time prior to their demolition.
The historic building recording focussed upon researching the history of the site and
photographing the structures and their context before and during their dismantling.
Phase 1 of the project comprised the recording of the gasholders and associated
structures in their context prior to work on site and Phase 2 comprised the recording
of the gasholders during their demolition, and the information used to update the
Phase 1 report.
The wider programme of recording work of the remaining gasholders across the
country will allow a comparison of the structures between sites.
Actions (login required)