Clarke, Graeme (2018) Lynnsport 3: Land South of Front Way, King's Lynn, Norfolk. [Client Report] (Unpublished)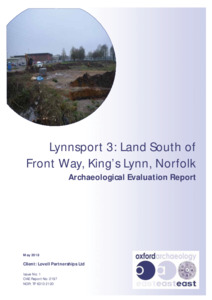 Preview
PDF




Report 2197_LR.pdf


Available under License Creative Commons Attribution Share Alike.
Download (4MB) | Preview
Abstract
Oxford Archaeology (OA) carried out an archaeological evaluation between 9th and 11th April 2018 at Lynnsport 3: Land South of Front Way, King's Lynn, Norfolk. This work was commissioned by Lovell Partnerships Ltd. The site comprised 1.47ha of undeveloped land, within the urban reach of King's Lynn, proposed for residential redevelopment.
The current site constitutes the second evaluated area within a wider scope of works (Lynnsport 1-5) scheduled to be investigated by Oxford Archaeology. These works lie in a significant area of industrial archaeological remains relating to later Saxon and medieval salt-making.
Norfolk Heritage Environment Record (NHER) data indicated that the remains of a saltern mound (NHER 27910) partially lay within the bounds of the proposed development. This mound lay at the northwestern extremity of the site where it extends westwards into neighbouring allotment gardens. Within the site, this mound lay beneath a car park, still in use when the trenching investigation was carried out, where two boreholes were drilled by hand to confirm the presence/absence of salt-making deposits. These boreholes along with an evaluation trench placed on the southeastern edge of the mound (outside the car park's extent) confirmed the presence of the saltern.
The mound was found to be composed of waste silts and sands resulting from the salt-making process. Waste deposits within the trench were observed to have been recently truncated, possibly as a result of the construction of the car park. The overlying dumps of made ground containing plastic, metal and ceramic debris. The boreholes within the car park encountered a greater level of preservation of similar waste silt deposits surviving up to 1m in thickness. However, there was no evidence within the trench or boreholes to confirm the presence of any in-situ features (brine boiling hearths or filtration units) directly associated with the salt-making process. Furthermore, no datable artefacts were recovered from the saltern along with a paucity of environmental remains.
The evaluation also revealed a recent boundary ditch that extended from north to south across the site. No finds were recovered from this feature. A further extensive area of recent truncation with associated made ground was observed in the northeastern part of the site. The broad linear earthwork along the southern boundary of the site was found to be comprised of recent made ground and was probably associated with the levelling of the adjacent sports fields. The remaining trenches were found to be devoid of archaeological remains, revealing only natural marshland deposits.
Item Type:
Client Report
Uncontrolled Keywords:
Norfolk, norfolk, King's Lynn, king's lynn, Kings Lynn, kings lynn, saltmaking, salt making, briquetage, saltern, evaluation, Evaluation, archaeological evaluation, 2197, report 2197, Report 2197, OAE report 2197
Subjects:
Geographical Areas > English Counties > Norfolk
Period > UK Periods > Early Medieval 410 - 1066 AD
Divisions:
Oxford Archaeology East
Depositing User:

Hamilton

Date Deposited:
15 Jun 2021 10:02
Last Modified:
15 Jun 2021 10:02
URI:
http://eprints.oxfordarchaeology.com/id/eprint/6042
Actions (login required)