Ford, Ben and Forde, Deirdre Former Boswells Dept. Store, 1-4 Broad Street, Oxford. [Client Report] (Unpublished)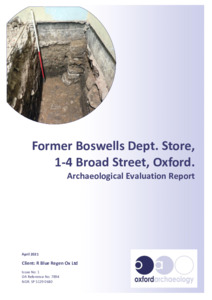 Preview
PDF




OXBS21.pdf


Download (5MB) | Preview

PDF
OXBS21_Building_Survey_Report.pdf
Download (14MB)
Abstract
Oxford Archaeology (OA) was commissioned by R Blue Regen Ox Ltd on behalf
of Reef Group to excavate ten geotechnical test pits using archaeological
evaluation methods and monitor and log three boreholes at the former
Boswells Department Store, 1-4 Broad St, Oxford (site centre SP 5129 0640).
The works are linked to a redevelopment of the site, Oxford City Council
Planning Ref: 20/02480/FUL.
The work clearly demonstrated that significant archaeological deposits
relating to successive phases of defensive ditch, probably Anglo-Saxon and
certainly Medieval and their sequences of infilling during the medieval and
Tudor periods, as well as later occupation encroachment in the 17th/18th
centuries survive within the site despite the existence of extensive basements.
Both ditches appear to have a similar, size and form c 27m wide and c 5m deep
– neither appeared to reach the Oxford Clay bedrock.
The presence of waterlogged deposits in both defensive ditches shows that
there is very good potential for highly significant organic remains which would
contain information on the nature of the ditch environment and hydrology, as
well as otherwise artefacts and ecofacts relating to diet and life that would
otherwise have decayed.
The presence and position of a probable part of the Medieval Town Wall
supports the position and alignment of this structure as first indicated on the
First Edition 1:500 OS map and then in later archaeological excavations in the
churchyard of St Michael at the Northgate during 1971-2.
Building Survey
In January 2021, Oxford Archaeology (OA) was commissioned by Reef Estates
(via Landgage Heritage) to undertake a programme of historic building
recording prior to and during the conversion of Boswells Department Store in
Oxford. The former Boswells Store is located at 1‐5 Broad Street and also
links through to 31 Cornmarket Street. The main building, Boswells House,
was constructed in 1929 for H Boswell & Co Ltd with offices and a restaurant
upstairs above the main department store.
Boswells closed in early 2020 and planning permission was granted for the
conversion of the building to a hotel (20/02480/FUL). The building is not
listed but it is within the Oxford Central (University and City) Conservation
Area.
Actions (login required)