Gill, Jonathan 1-3 Golden Cross Oxford Historic Building Investigation and Recording. [Client Report] (Unpublished)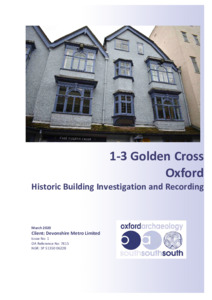 Preview
PDF




OXGOX19.pdf


Download (7MB) | Preview
Abstract
The Golden Cross in Oxford now comprises a group of retail units set around a small courtyard
and a thoroughfare into the covered market but historically it formed an inn, close to the very
centre of the medieval town, which went through various incarnations from the 12th century until
the 20th. The basic form of the inn complex followed a commonly found pattern of a line of small
shops along the street front and an inn to the rear, arranged around a courtyard and accessed
from the street through a covered archway. The oldest and most significant elements of the
Golden Cross are the archway from Cornmarket and the North Range which retains much timber
framing, early hand-painted wallpapers and 16th and 17th-century wall paintings.
The South Range was constructed in the third quarter of the 17th century and Oxford Archaeology
(OA) has recently undertaken historic building recording here on behalf of Devonshire Metro
Limited as a condition of planning approval relating to a refurbishment of the property. The
recording was undertaken in the form of an historic building watching brief at ground and first
floor levels to record any elements of previously hidden historic fabric which were exposed during
the strip out or refurbishment.
Although the scope of the investigation was relatively limited some areas of ceiling were removed
in the ground and first floor rooms to expose primary joists and elements of several fireplaces and
chimney breasts were also exposed. The building includes a pair of angled chimney breasts in the
western half and here the current project exposed areas of brickwork which may well be primary
although the character of the bricks is more suggestive of a later 18th or 19th-century date than
one from the 17th. Elements of stonework were exposed in the jambs of the ground floor fireplace
in the eastern half of the building.
A number of timbers were also exposed from what appears to have been a secondary (possibly
early 20th-century) refurbishment involving the addition of elements of 'mock' timber framing.
This attempt to historicise the building would also fit with panelling that was inserted into the
western ground floor room (but not recorded in the current project) and decorative framing that
is known to have been added to the exterior, probably in the early 20th century, but subsequently
removed.
Actions (login required)