Webb, Robin (2021) Land at the Former NIAB Headquarters, Huntingdon Road, Cambridge. [Client Report] (Unpublished)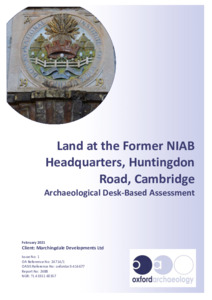 Preview
PDF




OAE_Report_2488_CAMHRN21_FINAL_LR.pdf


Available under License Creative Commons Attribution Share Alike.
Download (7MB) | Preview
Abstract
OA East was commissioned by Paul Harney Associates on behalf of Marchingdale Development Ltd to undertake an archaeological Desk-Based Assessment (DBA) of land to the north-east of Huntingdon Road, Cambridge (centred on NGR TL 43351 60357). The site lies within a parcel of land which was acquired by the National Institute of Agricultural Botany (NIAB) in 1921 and housed their headquarters until 2020. This DBA has been produced to support an application for the redevelopment of the site for residential use, comprising an aparthotel and community facilities.
The site is situated to the north-west of Cambridge city centre, on the edge of the city boundary and to the north-east of Huntingdon Road. There are no designated heritage assets within the site. At its south-western end (fronting onto Huntingdon Road) the former NIAB headquarters building is proposed to be retained and renovated.
The site is located north-west of the historic core of Cambridge, amongst residential and commercial properties. The site was part of arable fields until its acquisition by NIAB, when this plot was developed. During the last 20 years, the surrounding land previously owned by NIAB has been developed into residential estates and the new NIAB headquarters building.
A single registered Park and Garden (Grade II listed), 15 listed buildings (two Grade II* and the rest Grade II), and 112 non-designated heritage assets fall within the 1km radius study area of this site. The scheduled monuments of Cambridge Castle Mound and its Civil War earthworks lie c.1.6km to the south-east.
The non-designated heritage assets recorded on the Cambridgeshire Historic Environment Record (CHER) within 1km of the site are associated with Roman, medieval and post-medieval activity. Study of the surrounding archaeological resource indicates that although prehistoric evidence is more limited, there is evidence of significant Roman activity in the vicinity of the site, including roads (Via Devana and minor routes), with the Roman town of Duroliponte c.1.6km to the southeast and additional settlement and funerary evidence between the Roman town and the site. Medieval activity in the vicinity of the site relates to the deserted hamlet of Howes, which lay on both sides of Huntingdon Road, and agriculture. Post-medieval agricultural and horticultural evidence is also listed on the CHER along with boundaries marked on historical maps, with one of these shown to have crossed the site. In the surrounding area the CHER lists significant post-medieval gravel and coprolite quarrying. The site is most likely to contain archaeological remains relating to the Roman and medieval hinterland of Duroliponte/Cambridge and evidence of post-medieval agricultural and quarrying.
Overall, it is considered there is a low potential for archaeological remains to be present within the site due to both the low number of surrounding CHER entries and previous ground disturbance on the site which resulted from its 20th century development.
Item Type:
Client Report
Uncontrolled Keywords:
Cambridgeshire, cambridgeshire, Cambridge, cambridge, DBA, dba, Desk-Based Assessment, Desk-based Assessment, desk-based assessment, NIAB, National Institute of Agricultural Botany, building, structure, office, Modern, modern, OAE report 2488, 2488, report 2488, Report 2488
Subjects:
Geographical Areas > English Counties > Cambridgeshire
Period > UK Periods > Modern 1901 - present
Divisions:
Oxford Archaeology East
Depositing User:

Hamilton

Date Deposited:
28 Sep 2021 11:51
Last Modified:
28 Sep 2021 11:51
URI:
http://eprints.oxfordarchaeology.com/id/eprint/6129
Actions (login required)