Gill, Jonathan Winchester City Mill Hampshire. [Client Report] (Unpublished)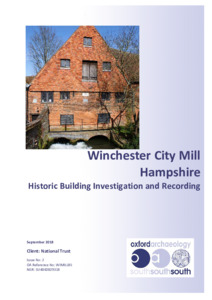 Preview
PDF




WIMILL18.pdf


Download (9MB) | Preview
Abstract
Winchester City Mill is a Grade II* listed building immediately outside the medieval city walls.
There is believed to have been a mill at this location since before the Norman Conquest but
the main current buildings are essentially mid 18th century in date, albeit incorporating some
fragmentary earlier remains. The mill ceased operations in the early 20th century but the
buildings were acquired in 1929 by the National Trust through a public subscription and then
part of it was leased to the Youth Hostel Association. It remained in this use until 2004 when,
after a lengthy restoration of the mill machinery, the building was once again used to grind
corn.
The National Trust has recently undertaken a programme of renovation works in a large range
constructed in 1748, to the east of the main building which houses the mill machinery and
which was itself constructed in 1744. The renovation has covered both the basement and
ground floor of this range and Oxford Archaeology (OA) was commissioned to undertake an
historic building investigation during these works. The investigation was not intended to be
an exhaustive study of the entire mill complex but instead it was meant to add to previous
studies, particularly one undertaken in 2015-6 by Museum of London Archaeology which had
focused on the ground floor joists of the 1748 range. Some areas of the joists were obscured
at the time of the 2015-6 works but these have now been exposed and added to the survey.
The current renovation works have included breaking out the concrete floor slab in the
basement and this has exposed a partially surviving earlier floor surface largely constructed
from brick pavers but also incorporating areas of flint cobbles. The exposed floor also included
other features such as an area of paving stones (probably a secondary repair), several pads
from former posts and two infilled brick-lined channels. A scaled photogrammetric record of
the exposed floor has been created as part of OA's current investigation.
OA were also asked to provide comments on the roof of the 1748 range. It seems clear that
this roof structure has undergone some remodelling but it is believed that this comprised
alterations rather than a full reconstruction and that the main structure survives from the mid
18th-century phase. The roof includes both full trusses and then a type of intermediate truss
with tie-beam but no principal rafters. Both the full and intermediate trusses incorporate
raking struts but these are secondary additions and empty mortices in the main trusses
suggest the possibility that they originally had an upper cruck form (or other similar
arrangement).
Actions (login required)