Mortimer, Richard (2006) Mill Common, Huntingdon, Cambridgeshire. [Client Report] (Unpublished)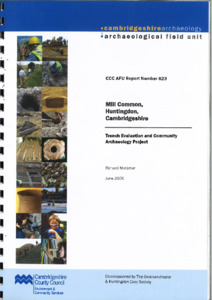 Preview
PDF




CCCAFU_report823.pdf


Available under License Creative Commons Attribution Share Alike.
Download (6MB) | Preview
Abstract
The Mill Common project was a community-centred excavation, forming part of the celebrations of the 800th anniversary of Huntingdon's Charter. The excavation was run over a week and two weekends in August 2005 by the Cambridgeshire County Council Archaeological Field Unit, and funded by the Godmanchester and Huntingdon Civic Society through the Local Heritage Initiative grant scheme. The Excavation was designed to accommodate up to 20 volunteer excavators per day and included a daily display and information tent and guided walks for the visiting public. In all 67 volunteers took part in the excavation. Permission to excavate on the land was given by the landowners, the Huntingdon Freemen's Charity.
Mill Common is a well known and publicly used open space, with pronounced and clearly visible earthworks. On specific aim of the excavation was to investigate the earthwork bank and ditch of the scheduled monument that runs across the west end of the common (SAM CB.188) - a large linear feature known as the Bar Dyke and thought to be either medieval or Civil War in origin.
Four trenches and a single test pit were excavated. One trench (Trench 1) was positioned to investigate two of the later aspects of archaeology on the common - the dating of the ridge and furrow and the location of a WW1 Royal Flying Corps training camp. Two others (Trenches 2 & 3) were placed over features identified by geophysics and a fourth (Trench 4) was excavated over the continuation of the Bar Ditch or Dyke, outside the scheduled area, where the bank had been removed in antiquity.
Archaeological features were uncovered in all trenches, including prehistoric ditches, medieval pits and ridge and furrow. The major discoveries of the dig were n Trench 4 where the Bar Dyke was shown to continue well beyond the scheduled area. The ditch, when excavated, was seen to be some 12m wide and nearly 2.5m deep. While there were few datable finds from its fills, a clay pipe bowl dated c. AD 1780-1830 lay immediately beneath the upper, dumped infill of the ditch. This, and the sheer size of the ditch, suggests that this phase of it may date from the Civil War, forming part of the western defences of the town. Behind this ditch, hidden beneath its eastern edge and beneath where the bank had lain, was a smaller, earlier medieval ditch that in turn truncated another linear feature, 5m wide but only a metre deep. These features are not clearly dated bu tare probably medieval or earlier and may be versions of the dyke, or lane, mentioned as the Bar Dyke in medieval documents.
Item Type:
Client Report
Uncontrolled Keywords:
Huntingdon, huntingdon, Cambridgeshire, cambridgeshire, evaluation, Evaluation, archaeological evaluation, community project, outreach project, Medieval, medieval, Post-Medieval, post-medieval, Post Medieval, post medieval, Bar Dyke, bar dyke, Mill Common, mill common, pottery, Pottery, pot, ceramic, sherd, vessel, Medieval pottery, medieval pottery, Post-Medieval pottery, post-medieval pottery, Post Medieval pottery, post medieval pottery, animal bone, animal bones, animal remains, bones, bone, clay pipe, clay tobacco pipe, CTP, ctp, Civil War English Civil War, civil war, pit, medieval pit, ridge and furrow, furrow, post-medieval ridge and furrow, scheduled monument, 823, report 823, Report 823, CCCAFU report 823
Subjects:
Geographical Areas > English Counties > Cambridgeshire
Period > UK Periods > Medieval 1066 - 1540 AD
Period > UK Periods > Post Medieval 1540 - 1901 AD
Divisions:
Oxford Archaeology East
Depositing User:

Hamilton

Date Deposited:
04 May 2022 09:20
Last Modified:
04 May 2022 09:20
URI:
http://eprints.oxfordarchaeology.com/id/eprint/6253
Actions (login required)